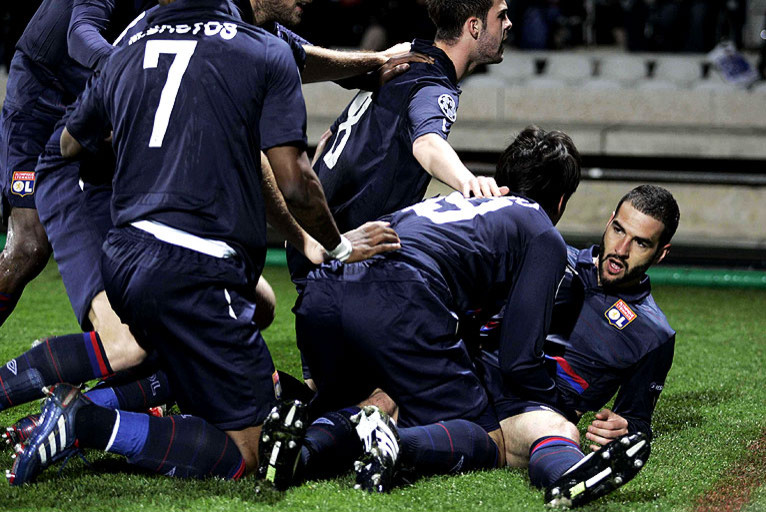 If certain people had their doubts about the quality of this all French encounter in the Champions League, the spectacle put on by the two teams was more than worthy of the event...
« I don't know about you, but I didn't see the time go by. Both sides could have scored more goals. It was a good match … ». This was the substance of what Laurent Blanc said during his press conference after the encounter.
Effectively, we didn't see the time go by, nor have the time to get bored during OL's less good periods. This OL side is decidedly different on the European scene. They needed a strong mentality to "come back" from the goal they conceded early on, something that wasn't in the programme, a goal that put Cris and his team-mates in a difficult situation. But there was no question of letting go just like in Liverpool, or against the Reds at Gerland, or in Madrid… This group has shown they have what it takes in these elite evenings. They were served by the talent of Hugo Lloris who was incredible when Bordeaux had two or three almost winning chances. Served by the immense Lisandro who was generous, a goal scorer, with great technique, altruistic. Served by a great Delgado, the never tired Toulalan, and the left foot of Bastos…
Bordeaux put in a great collective performance, controlling the ball through Gourcuff, Chamakh maneuvering options up front. Bordeaux were worried about their lack of experience at this level of European competition in comparison to OL. That almost certainly had its impact, even if, as Claude Puel often repeats, his group is under construction and also lacks experience at the top level.
This superb Franco-French encounter will deliver up a ticket for the last four next week, a ticket which is not yet in OL's pocket, despite the 3-1 score line. Everyone knows this, within the OL ranks just like in a Bordeaux squad who will recuperate their captain Diarra, and maybe even, the defender Planus. It is difficult to imagine the Bordeaux defence being in as much trouble at home as they were on Tuesday night! Even if the reigning French champions have lost their last two matches with a 3-1 score line…
OL will be without Lisandro and Govou, both suspended. OL will be looking for the knock-out by scoring but also being patient and attentive whenever Bordeaux have a set piece. The match promises a great deal, in the knowledge that in the meantime domestic obligations will have to be dealt with, Nancy for Bordeaux and Rennes for OL. How can they play these matches without thinking of the return game in Europe? If Bordeaux still hold a joker, OL are almost obliged to get a result in Brittany in order to stay on track for their objective of a place on the podium.  But, Bordeaux would also be well advised to win their match after the last two annoying defeats. There will be no time to savor anything, as is often the case …
With a lot at stake in Week 31 of the Ligue 1, the week will not seem too long before the trip to Bordeaux and this formidable hope of qualification for the last four of the competition. It would be a clever man who could predict the scenario or the name of the team that will qualify from this match, even if statistics suggest that Bastos and his team-mates have the advantage: 73% chance of qualification after having won a first leg at home with a 3-1 score line. With or without these numbers, Lyon know that they are 90, maybe 120, minutes from writing a great page in the history of the club. This is the guarantee that they will give everything that they have.