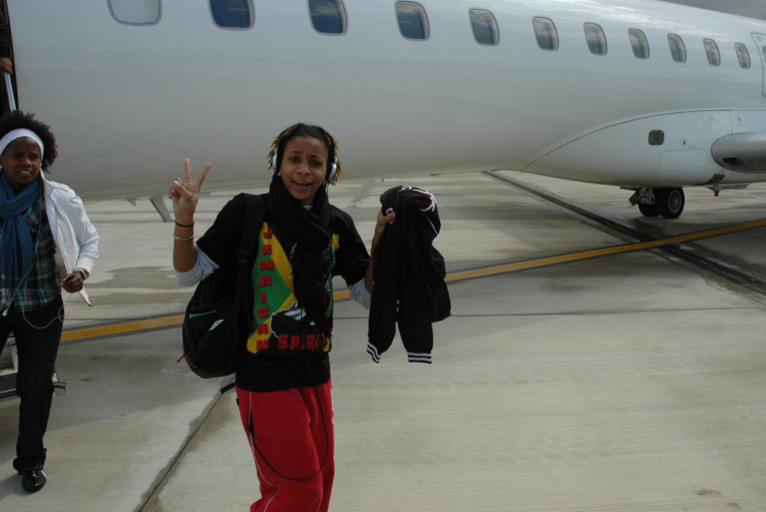 Two days after the defeat away to Juvisy in the league, OL's female team took off this morning for Sardinia where they will play their Champions League quarter final return leg tomorrow ay 15h00.
Last week-ends calamity does not seem to have altered the positive atmosphere to which the OL squad has gotten us used to: "Obviously I'm very disappointed", Lotta Schelin confided in us this morning at the Lyon Bron airport. "Right now, we have to forget about this match as we have another game tomorrow". The Swedish striker who has already scored 5 goals in as many European matches is hoping to take advantage of this trip to Italy in order to work on her stats.
This morning, 20 OL players took off from Lyon headed for the airport at Alghero. Amongst them, Laura Georges who is injured and Sarah Bouhaddi just making her way back from injury, both of whom were invited along at the last minute. During the flight, a lot of the talk was about this evenings match between Chelsea and Inter Milan. It was the occasion to speak of the career of a former "Blue" from Sardinia Gianfranco Zola, who wore the colours of Torres Calcio at the start of his career.
A 40 minute bus ride separates Alghero from Sassari, situated on the north of the island. In their hotle right next to the Vanni Sanna stadium where the match will take place, the OL players were finding their feet, before discovering the 12 000 seater stadium at 16h00 under the Sardinian sun.