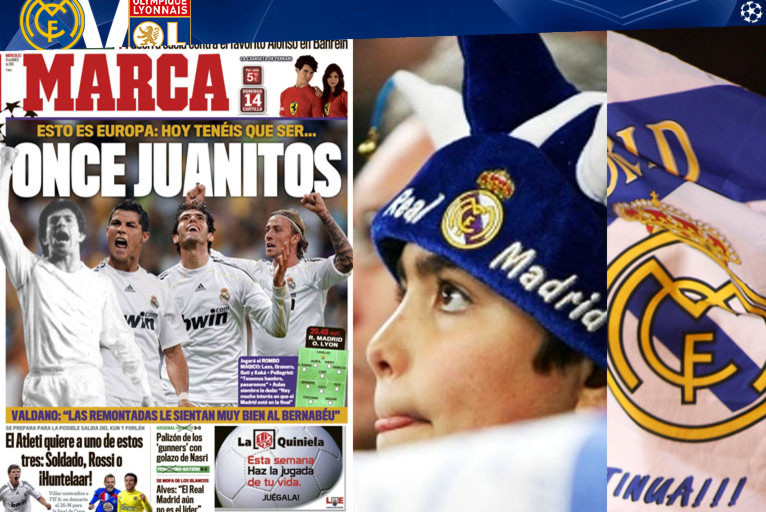 The sun is shining on the Spanish capital...a good time to get some fresh air before the evening's match at the Bernabeu...
Tapas and vino riojo in a bodeja for dinner on Tuesday night before discovering the sumptuous San Miguel market. A superb place for the palate and the eyes. A meeting place, and enjoyable evening shared.
The temperature is at 2° on this Wednesday morning, perfect weather for putting on your running shoes and joining up with your friend Max. Direction « la Castellana ». Straight through the traffic towards the Royal Palace looking at the fabulous monuments, and lifting your eyes to see the high up statues, then a diversion through the Puerta del Sol before coming back through the Plaza de Cibeles, a site for celebration on the evenings when Real Madrid win titles. A right turn next to the Communications Palace, it's a little steep. The pesky Max takes advantage and changes gears. At the end, the Indépendance Square and the sumptuous Retiro garden. Allow yourself to be guided by the calm alleyways, the clear lake and the different monuments. A steep climb makes the heart rate pick up, tires out the legs. Max is starting to wane …
We then come back through the immense Castellana which is covered by an exhibition of strange sculptures. « Are we nearly there … I'm tired … ». Shut up and run! 10 minutes before finally finishing up and stretching.  A headline in Marca attracts our attention: « 11 Juanitos ». The paper is making a call to the pride and courage of Real in order to qualify. This courage which was personified by Juanito, the former Real striker of the 80's. The supporters at the Bernabeu always remember. In each encounter, in the 7th minute of play (7 was the shirt number worn by Juanito), they chant the name of the player who, after a 3-0 defeat at the hands of Anderlecht in Brussels said to his team-mates: « we will qualify … ». They did with a 6-1 scoreline!



"I found the focused. They are not saying very much

".



A call to pride and valour …. Or maybe the sign of a little fear. Just in front of the players hotel we see Bernard Lacombe. How are the players? "As early as breakfast this morning I felt that they were focused. They are not saying very much. It's not often that they are like this … ". The temperature has risen. The city is animated and noisy. The Bernabeu is not too far away. There is still time to savor, speak about everything and nothing, buy a lot of souvenirs. Speaking of souvenirs, there is talk of the Real club shop Spanish ham and a lot of other nonsense. In a short while we will surely come across the first OL supporters. A European encounter of this nature is always a fantastic experience.