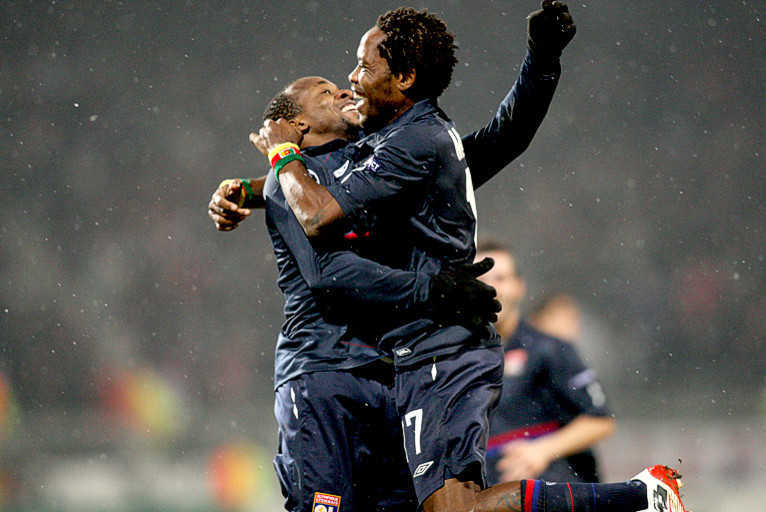 4 wins and a draw in two different competitions… 0 goals conceded… a return to the podium which they had not seen since Week 15… and a much more attractive style of play since the match against Real…
4 Ligue 1 matches: TFC 0 OL 0, OL 1 Lens 0, Sochaux 0 OL 4, OL 2 Nice 0.
1 match in the Champions League: OL 1 Real Madrid 0
18 plyers used. Lloris, Cris, Boumsong played every minute of all five matches.
Claude Puel kicked off once, in Toulouse, with a 4-4-2 formation. In the other 4 encounters he went with a 4-3-3, changing to a 4-4-2 for around twenty minutes against Lens in order to make the difference, before going back to a 4-3-3.
8 goals scored from 62 shots and 0 goals conceded.
Bastos 3 goals (11 shots), Lisandro 2 (8 shots), Delgado 1 (4 shots), Makoun 1 (4 shots).
OL were also able to rapidly make the difference in the last two matches, scoring 4 goals on the first half. Breakdown of goals per 15 minutes: 2, 2, 0, 1, 0, 3.
OL got themselves back onto a podium that they had left in Week 16, and are the club with the best run of results since the return matches started after the winter break with 19 points taken from 21 possible, ahead of Montpellier 18, OM 16… Bordeaux have taken 8 points but still have two games in hand.
In March, OL travel to Boulogne and OM; receive Saint-Etienne and Grenoble. Lyon will also play the last 16 return leg of the Champions League in Madrid.