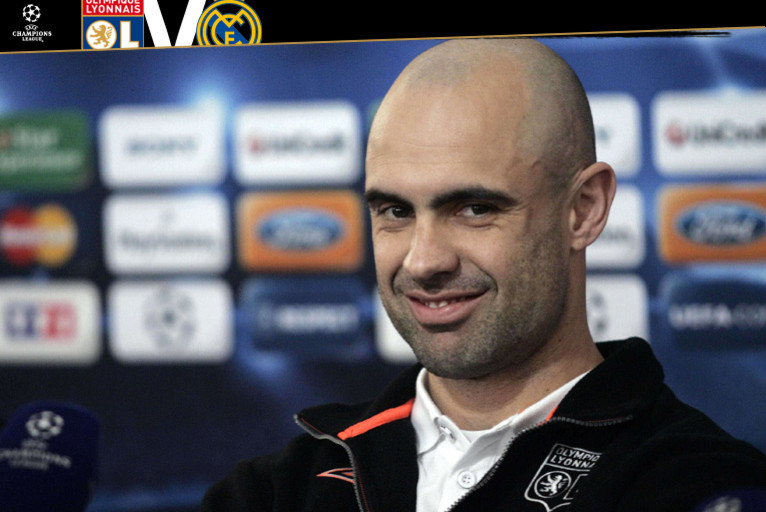 Cris and Claude Puel participated in the press conference which traditionally precedes each Champions League match.
Cris :
On the eve of the match against Real Madrid, do you have a strong feeling of pressure?
There is always pressure in football, especially when you are up against a top club. Tomorrow we are playing in the Champions League, there is a lot of expectation, so yes there is pressure.
Can this encounter be compared to those already played against Real Madrid?
No, it's totally different. This is a last 16 match, whereas beforehand it was always in the group stage. The two matches are going to be very difficult. There is no room for error, we will have to be 100% concentrated.
You have already played against Cristiano Ronaldo when he was at Manchester United. Do you know how to defend against him now?
I don't have particularly good memories of those matches as we were eliminated. He is a great player, if you let him do his thing he can make the difference by himself. You always have to keep an eye on him, but at Real there are other players who can make the difference as well, like Kaka, Karim (Benzema) or Higuain. We need to be wary of everyone.
Is the aim to make the difference in the first leg or to keep alive all your chances going into the return game?
Firstly we should try and avoid conceding. You have to know how to play this type of match. Afterwards there will be the return leg, so we can't base everything on the first game. We will have to play patiently.
Are you worried?
No, we've taken 13 points from 15 possible in the league and are still unbeaten this year. We know that we are up against a great side, but in our frame of mind, team spirit and aggressivity we are ready.
Can the experience you gained against Barcelona last year help you out?
We will have to remain focused for 93 minutes. We cannot relax at any moment. Over the last two seasons we conceded goals because of our errors. With my experience I will be speaking to the other players, my message will be for them not to relax and keep fighting to the end.
How are you preparing for the reunion with Karim Benzema?
Calmly. He is a great player and we had some unbelievable times with him at OL. He will do all that he can for his side and me for mine. Off the pitch we are friends, but on it we will be enemies.
Is Lloris as good as Casillas?
Yes, in view of what he has done for OL this season and with the national team, he is a quality keeper. I think he will end up being better than Casillas.
Do OL scare Europe less than they did a few seasons ago?
We are still around, we're in the last 16 against Madrid and have all of our chances. We have to do our job and for the moment we are doing it well.
Are OL favourites?
No, especially when you look at how much money Real Madrid have spent. They have bought the players to win the Liga and the Champions League, with the final being played at the Bernabeu. Madrid are favourites, but on the pitch it is still 11 against 11, anything is possible.
Claude Puel:
Do you think that your team will be able to find their best form for this match?
We have had some good results in the league, but we know that we have to get better in our consistency and manner of playing. The European cup is a different competition, and the preparation is special. We aren't blindly optimist but have faith in our capabilities.
Is this match coming along at the right time?
It is arriving when it is arriving. We're ready, the squad is happy and cannot wait to play this match. We have a lot of respect for this Real side. During this first leg we will be preparing the second, to give ourselves all of our chances.
Is this match the starting point of a new adventure?
Maybe. The squad is starting to write its own story. Even if things are difficult they are gettiing stronger and proving their quality and character. We're at the start of an adventure and we'll see where it takes us. Whatever happens, it will be interesting to see the side move up levels, even if it will be difficult.
The defence does not seem to be Real's strongest point. Do you agree?
That's your opinion. I have seen a well balanced Real side, as much offensively as defensively. They are a real side, which has a soul and a great collective. That was the hardest work Pellegrini had to do and he is seeing his work pay off. Real haven't been playing together very long but they still manage to play as a team, mixing together so many stars. The manager has done a good job.
Does the fact that you are not favourites take away a little of the pressure on the team and will it allow them to play without worry?
We want to qualify, whether we are favourites or not it doesn't change anything. Even if we have to go looking for a qualification in Madrid, we will do so. The main thing is not to be out before the game in Madrid. Individually they are better than us, so it is up to us to play better as a team.
Are you worried about playing against Karim Benzema?
No not at all, I'll be happy for him if he plays as he came through the ranks here at OL and he would be playing in front of his family and public. But no I'm not worried, if it was the case I would have to be worried about the entire Real side. That isn't the case and I don't want it to be.