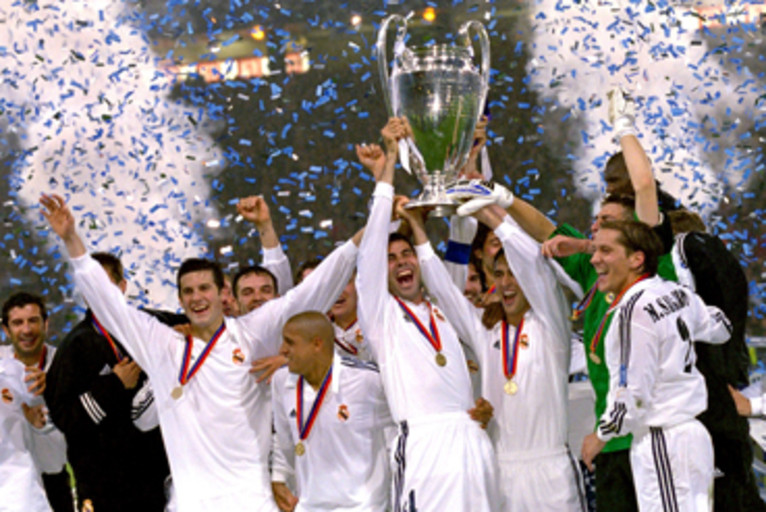 "Let me tell you about a time that those under 20 years of age cannot know...". Charles Aznavour couldn't have put it better.
16th of June 1956, Real faced off against the Stade de Reims for a final that would remain engraved on the collective memory of the first edition of the European Cup at the Parc des Princes. After having gone 2-1, then 3-2 down, the "Merengues" finally won 4-3 after an encounter with an ever changing scenario and took home the title.
35 years later, Real were back on French soil at the Stade Vélodrome. The European Cup had now changed its name to the "Champions League". On the 8th of December 2009, in the last group stage match of group C, Cristiano Ronaldo, with two goals, and his team-mates buried OM's final hopes of a qualification for the last 16 of the competition, winning 3-1.
In between, on the 15th of May 2002, the "Galacticos", as they were nicknamed at the time, overcame Bayer Leverkusen 2-1 in the unbelievable atmosphere of Hampden Park in Glasgow in the final of the Champions League. An encounter which was lit up by the sublime and decisive volley from Zinedine Zidane, following a cross from Roberto Carlos. An unforgettable evening for the former France playmaker who won the only title that was missing from his collection. This is, to date, the last European title taken by the "Merengues" (apart from the European Super Cup won in the aftermath on the 30th of August 2002).
In 35 ans, Real have participated in 12 finals of the Champions League, winning on nine occasions. The top scorer in the history of the competition is the Madrid player Raul, with a total of 68 goals (preliminary rounds included).
A 69th goal from the "Angel of Madrid" in this competition would not be looked at with a kind eye on the banks of the Rhône.