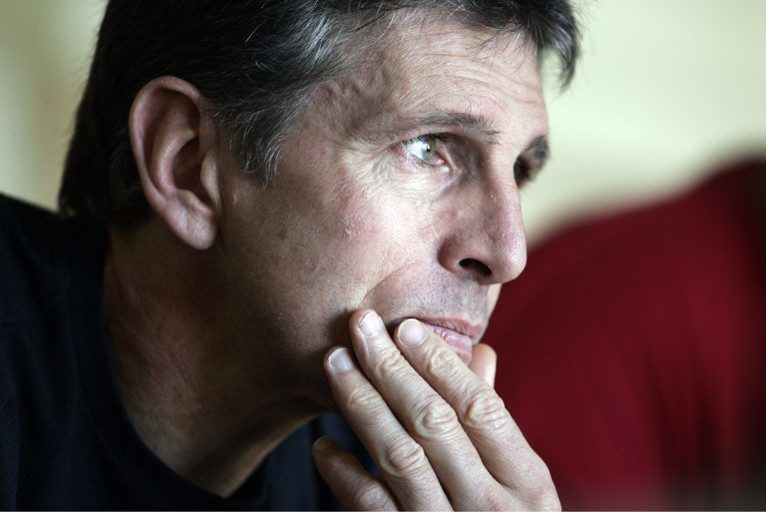 The OL coach looked back on the disappointment of the elimination from the domestic cup competitions, affirming at the same time that the squad has moved on, focusing on the match against PSG on Sunday night...
In what frame of mind is the squad?
« The squad is disappointed in view of the eliminations from the two cup competitions. But we have moved on and are preparing for the home game against PSG. Finally playing at home? It's good to be back at Gerland after all of these away games. We have had an interesting start to the year, it's a shame to have been eliminated after the form we have shown since the winter break».
Is the match against PSG going to be decisive?
« I don't ask myself that type of question. We are preparing for the match against PSG, who are in need of points just like us. It will be an interesting match between two sides who need to progress. The outcome cannot be predicted and we are going to need our supporters behind us. That some shouted for my resignation on Thursday at training is just something tht comes with the job. A decisive match? It could be, we'll see after the game. All matches are important if we want to move back up the table. Afterwards, I don't work with IF's. We are preparing to put in a good performance and to win. We are not thinking about the consequences. We are in the action before anything else. We want to win. We need to do more, do better while maintaining the same way of approachingg matches as we did before ».



"On est dans l'action

avan tout"



What do you think about PSG?
« They have a good team with quality players, they are a dangerous side.  They will benefit from the return of Hoarau. The way the ream plays will evolve with him involved; PSG will be able to play much more directly ».
Why did you make so many changes from one match to another?
« When you play every three days you are obliged to, on top of that there are injuries. If we only played once per week then certainly there would be a fixed starting eleven which would come to the forefront. But, what is a fixed starting eleven? When you have a quality squad, the way you select your line-up depends on a number of factors ».
What do you think about the fact that the President, Jean-Michel Aulas, spoke out?
« It's not my place to comment upon the interventions of the President. Afterwards, it's always good that the President defends the club. It's normal ».
What does the injury situation look like?
« Clerc, Bodmer and Anderson are all still out. Bastos and Lloris are undergoing treatment for little things, we'll take a look at them on Saturday. As for Makoun, he will be back from the African Cup of Nations on Saturday ».
The transfer window?
I don't think there will be any other arrivals. Ederson? Nothing has been decided yet ".