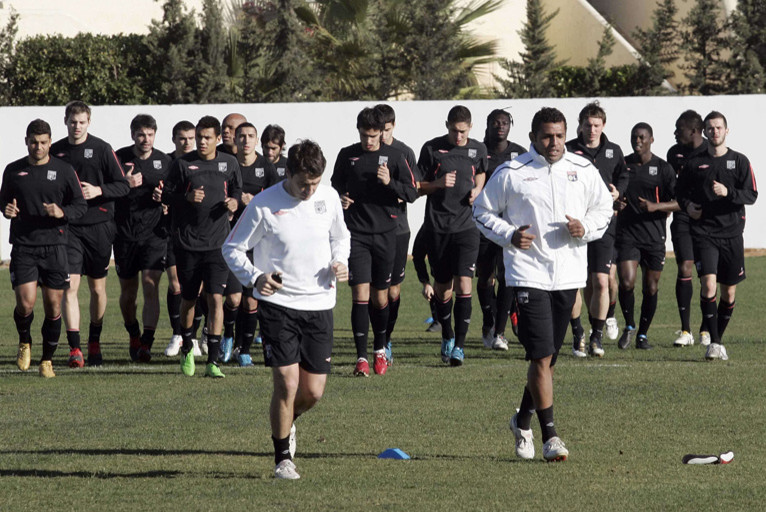 On Tuesday night, the French press was invited to dinner by the Minisiter of Tourism...on Wednesday morning a training session awaited the OL players under the Tunisian sun...
Wednesdays match is present all around. Makroun, a waiter at the hotel delightedly speaks about his love for the Club Africain. « I live next to the stadium and I'll be at the match. In Tunisia, people generally support OM. I know Hatem Ben Arfa. Look, I took a photo with him last year when he came to Tunisia … ». The team Club Africain set up camp in the media hotel situated 400 metres from that of the players.
On Tuesday night, after a game of football between the journalists, in which Georges Prost took part with as much technique as ever, it was direction Sidi Bou Saïd for a dinner with the minister of Tourism, Khelil Lajimi. Another delicious moment over a superb meal. This remarkable 45 year old man knows all about football. He has been a Club fan for his whole life. When speaking about his work, his country, he makes you want to come back to Tunisia to discover all the marvels and secrets hidden there. A country which is visited each year by 1 400 000 French people. A varied country, with a rich history and cultural diversity. We also spoke with the minister about his love for running. « I run half marathons. I'm in preparation for the next one in Tunis. I train in the evenings after work and aat the week-end… ».  The Minister is proud to announce that France will be coming to Tunisia, to Sousse, at the end of May to play a friendly before the World Cup.
The quality of the welcome left us flabbergasted once again, something that was shared by the entire OL delegation. The squad had a rendez-vous on Wednesday morning at 10H00 on the pitch for a session on the morning of the match. The workshops took place without Govou who stayed at the hotel. Good humour was still the order of the day as was hard work. Michel Bastos was happy to tell everyone that his wife is expecting a child, due next August. He will be able to add to his right boot the first name of the new child, alongside those of his wife and son, his own name is on his left boot, evidently.
OL will head to the stadium at Rades at 16h 30 for a match that the loclas have been waiting for impatiently … as well as by the Lyon squad who want to see at what stage they are. Us too....