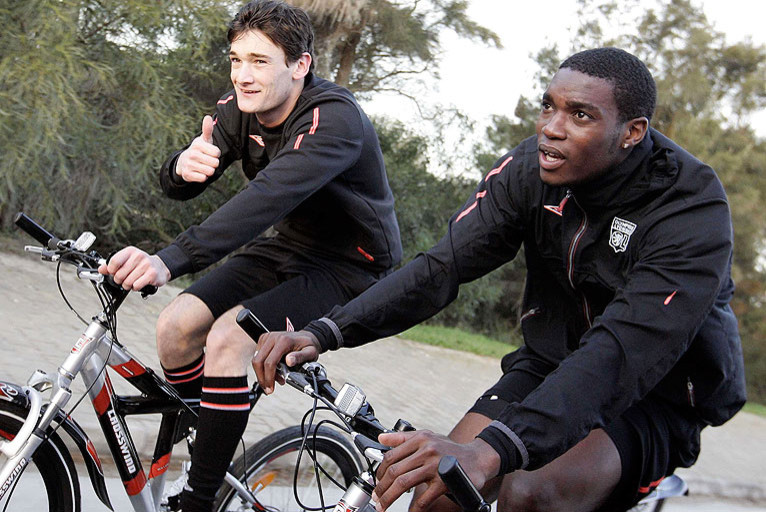 You have to vary pleasures. After the morning work out on the beach on Sunday, the OL squad warmed up this morning with a bike ride...
First of all the bikes had to be checked. It wasn't easy before the group left the hotel at 7h 30 in a slightly chilly morning, cold for your hands when you are heading out on a bike. No question about complaining when others are stuck under the snow.
Two laps on the concrete near to the hotel with quite dense traffic which the police escort would deal with. Belfodil derailed right at the start. Claude Puel who was taking part in the ride on a green bike would wait for him. It is quite cold and certain players protect their hands by taking turns in putting them in their pockets. There are smiles, different speeds, jokes, silence. Everyone goes through the experience in their own manner. You can see that some are more at ease than others. Half way through the ride it was surprising to find the Argentinean Lisandro and the Brazilians Cris and Ederson in the lead. The Doc, Emmanuel Ohrant, who was following in a car stated that he understood nothing about bikes anymore because of this.
A fairly calm first lap still managed to split the group up and force Vercoutre to fix a technical problem. The second lap was more intense. « Sid » Govou had managed to find some gloves, thanks Doc. The traffic had become even thicker, with a long line of vehicules having to wait. 45 minutes after the departure, everyone put down their rides and headed off for breakfast.
Awake and nourished, the players got back together at 9h 45 on the pitch for some physical work. They will be back on the same pitch at 16h00 for other occupations. The aches and pains present at the start of the training camp will soon become just memories.