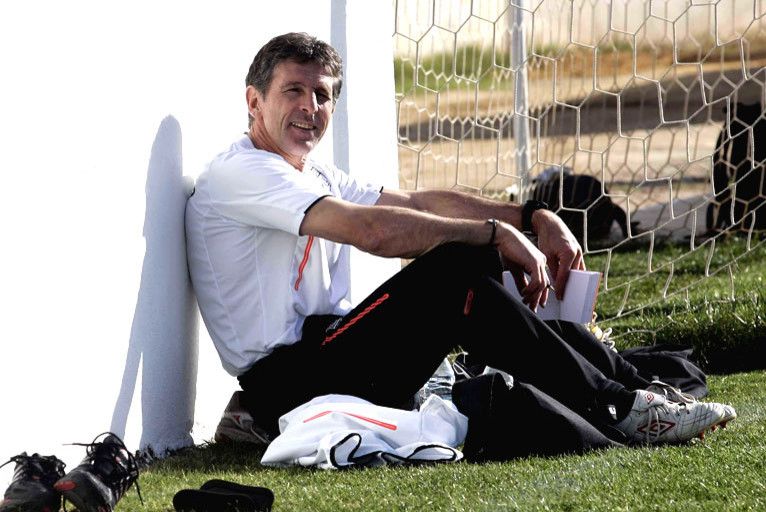 After lunch, Cris and Claude Puel answered questions from the gathered media...
Tunisian media, Belgian television and of course French journalists were all present for this first press conference of the OL training camp. Whether they were for Cris or Claude Puel there were numerous identical questions about the return to work, on what went on over the first half of the season with two very distinct periods, on the near future. The assessments were identical with the aknowledgement thtat he results were not good enough and the hope that this would change.
What is importance of this training camp?
Cris: "It's good for us to be together here. We all need to take a look at what went on in 2009 to get going on the right foot again. We started the season well, but afterwards things were different. We have to put everything on the table in order to refind our desire and the right atmosphere. We have to think how to avoid repeating the same mistakes. Quite frankly I don't know what happened. During recent matches when we conceded a goal our heads dropped too quickly. We deserve to be in 6th place ".
Claude Puel: "This training camp is very important. The temperature here is good. Being together is an ideal situation. We are preparing for the second half of the season together and everyone is available. Everything is organised and we only have football to think about. We forget all about the little daily problems. It allows us to have team discussions and one to one discussions. Physically we have to work on our fitness as we will be playing a lot of matches in a short space of time. Our objective is to get everyone back and avoid any new injuries. That would allow us to bring in a certain amount of competition within the squad. In the first half of the season, with the injuries, we have worn out those players who were fit and that had an effect on the quality of our performances ".
What ambitions do OL have for this season?
Cris: "It depends on us. On paper we have a very good side. We have to start off well against Strasbourg and then take each match like a final. We are 13 points behind Bordeaux, it will be complicated for the title, but we have to keep believing. I remember how far ahead we were last season... We have to focus on ourselves, we'll see what happens afterwards. We need to show our qualities, our desire, our character. We have to show that OL are present through our football, by playing and winning. We are still under construction, having lost Karim and "Juni". It's difficult, despite the quality of the recruitment, to put together a competitive side so quickly. Reinforcements during the transfer window? It's always good when new players come in, players ready to get into action straight away ".
Claude Puel: "In our situation, things have to be put in order, we have to get bac kto our football, desire and quality. Then we have to get back onto the podium as quickly as possible and not leave it. Then we will see what happens as far as the title is concerned. I have never saisd that I would be happy with second place. On the other hand, I said that if we got back to second place having shown that we were a solid team with potential for the future...I would take it. We know that for OL all competitions are important. We'll see if we can play them all to the best of our abilities. Let's play and win. Next Saturday against Strasbourg, the qualification will be important. I'm waiting for ther team to show their desire, and a way of behaving. I want them to get back to basics. The transfer window? We have some leads. We cannot be stupid, if we can make the squad better then we will do it. Afterwards there are the financial considerations. Everything has to be coherent ".
Do you understand the displays of unhappiness from the supporters?
Cris: "Of course. The supporters were not used to it. They are unhappy, but so are we. Since I have been at OL, I have never been in 6th place in the league. I have rarely conceded as many goals as I did in the OM match. All of that has shaken us up during the festivities, but there is no question that we give up ".
Claude Puel: "It's understandable. That the supporters have a go at me is normal. As manager I am responsible. I have no problem with that. It's part of the job, even if it is never fun taking knocks. Afterwards, it mustn't disturb the players. How the players feel is more important than how I feel. They mustn't be stopped from showing what they can do. They are the ones who can change things out on the pitch. These moments are difficult, but we can learn from them ".