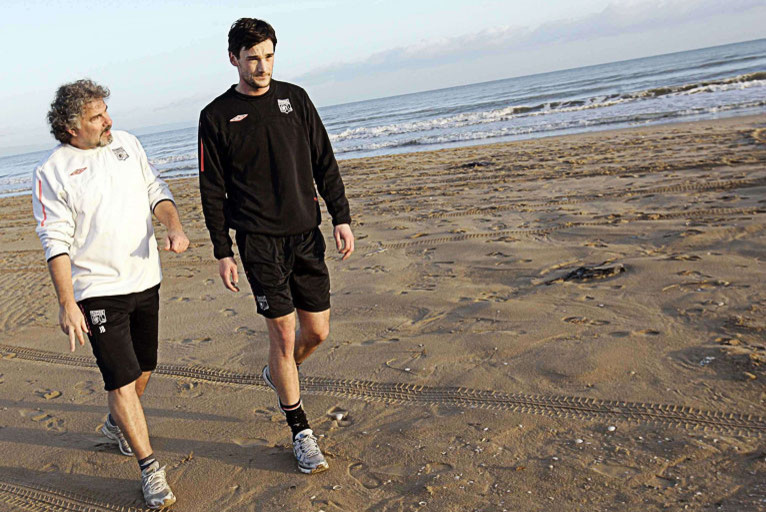 Running first thing....varied work after breakfast...OL will do ball work this afternoon...
7h00. Daylight breaks in Tunis. It looks like it's going to be a nice day. The taxi drivers are already numerous in front of the Hotel Residence. Taxi drivers, but also football fans. Supporters of Club Africain or Esperance, they make fun of eachother gently and talk about the the draw in the lmast derby match. "The referee was terrible...". They also talk about their country, of the desert in the south for example. "Down there the people are different. They are more layed back...". The first golfers are already ready to head ou on to the course. The OL squad is also ready to head to the long beach just next to the hotel. 4 groups for some running. Quite a way to wake up.
Jo Bats follows at a distance. He remembers that he has already been here with PSG in 96. "That year we finished 2nd in the L1 and played a European final... ". It is a delight to speak to the coach who will celebrate his 53rd birthday on Tuesday. "In 96, I also celebrated my birthday in this hotel.... We are often away on training camps at this time of the year...". A poetic view of the countryside while Kolo comes in in front of everyone. "Where are my keepers?" Ah, those keepers that he adores! He explains the specificity of the position, the qualities required, the progress that has been made in the preparation which didn't exist when he started out as a pro, the difficulties which must be overcome. Thee is all that is shared on a daily basis, feelings...obviously. This feeling which often helps move on. A final whistle after 45 minutes of efforts broken up by a period of recuperation. Direction the hotel for breakfast.
9H 45. The squad splits into two groups, one group invests the weights room, the other out onto the pitch for different exercises. They will put in around two hours of work. The Algerian side Borj Bouarij, are in training on the neighbouring. From 15h00, Cris and his team-mates will be back out on the pitch for some work with the ball.
At 12h00, it was time to head back to the hotel for lunch. Cris and Claude Puel would then answer questions from the media during a press conference.