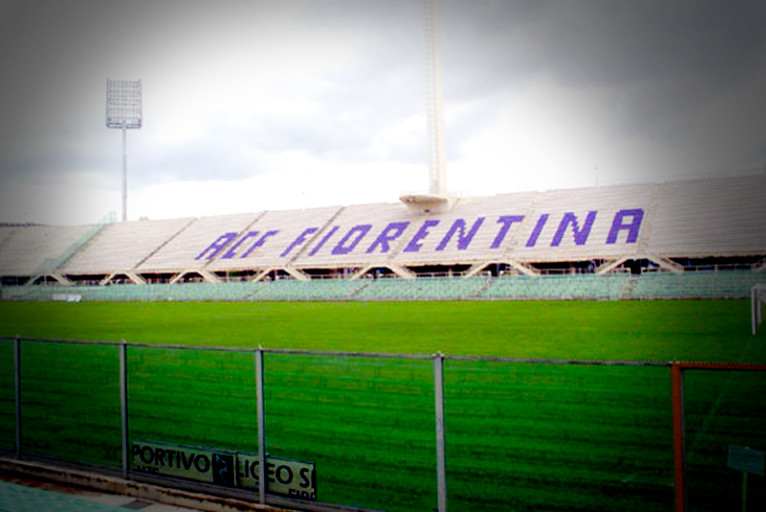 A pre-match morning in Florence...a magnificent city invaded by tourists...and scooters...
In the Italian press, there are a certain number of articles about the encounter Fiorentina – OL « the most important match of the season … for the manager Prandelli », but the big match at the Nou Camp between Barcelona and Inter has nott left anyone indifferent. To come back to Fiorentina, they are hopeful of making it to the last 16 of the Champions League. It would be a first for the president Della Valle. 35 000 tickets had been sold on Monday night. Gilardino had his team-mates will not be lacking in support.
On Tuesday morning there was no hint of excitement in the streets of Florence. In Florence the scooter is as the bicycle is to Amsterdam! There are everywhere and rarely silent. The majestic Ponte Vecchio is, thankfully, spared these two wheeled vehicles. The day begins and the small jewellers shops open in great tranquility. Arno is barely distrubed by a solitary rower, while the tourist coaches begin to disgorge their cargoes, hungry to see the slightest building or statue … and there are plenty of them in this region full of history.
Leaving the banks of the Arno, the Artemio Franchi stadium is preparing for an evening it hopes will be great. A number of old supporters are already talking about football in front of the Marisa, a « supporters » bar located in front of the main entrance of the stadium which was built in 1926. There are less of them than there was yesterday at the end of the afternoon and surely than there will be on Tuesday evening. Right next to Artemio Franchi, an athletics stadium see's preparations for the marathon of Florence which will take place on Sunday.
When looking up, how could anyone miss the numerous balconies garenered with flowers; how could you not see the hills that surround the city. When looking up, the uppermost point of the Dôme serves as a guidepost to help finding the hotel through the narrow sunless streets that are in continuous repare work. The Place de la République offers its splendour, a Palace attracts the eye as do the luxury boutiques. The smell of cafe wafts on the breeze. A superb autumn day fills our lungs with soft bliss.
Back to the banks of the Arno still with the solitary rower. The scooters are now less numerous to be beeping their horns. All the jewellery shops are now open. As for the players, just the usual pre-match activities. Breakfast, a walk, video and then lunch. Then the afternoon hours tick by before the departure for the stadium. Anything new? After the match, they will stay in Florence overnight instead of returning « exhausted » to Lyon in the middle of the night as was the case after the match in Liverpool. A decision very much appreciated by the players … and the media who follow the club.