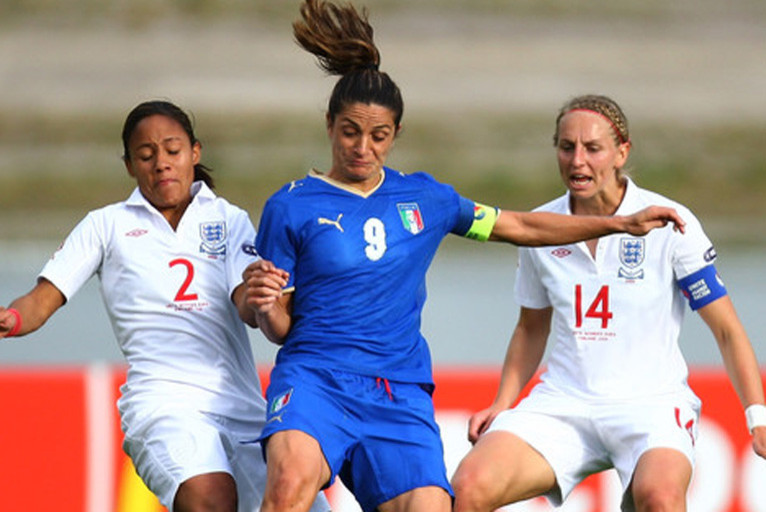 OL's women's team have been given a more favourable draw for the quarter-final of the Champions League. By being drawn against Torres Calcio, OL have avoided the German favourites Duisbourg and Potsdam.
OL's womens team will be up against an Italian club on their road to Madrid on the 10th and 17th of March 2010. Having already knocked out Bardolino in the quarter-finals last season (5-0, 4-1), Farid Benstiti's players will this time face Torres Calcio. Second in the Italian league last season, the club from the Sardinian village of Sassari have something in common with the Bardolino of last season: the experienced stiker of the Squadra Azzura Patrizia Panico (see photo). Having come through the preliminary round, the Italians defeated the Austrians of Neulengbach in the last round (4-1, 4-1).
In the semi-finals, OL could be up against either Montpellier or the Swedes of Umea IK. OL have managed to avoid the two German favourites Duisbourg and Potsdam before the final, but will play the return legs of the quarter and an eventual semi-final away from home.
Draw for the 1/4 final of the Women's Champions League:
Olympique Lyonnais (FRA) - Torres Calcio (ITA)
Umea IK (SWE) - Montpellier (FRA)
FCR Duisbourg (GER) - Arsenal (ENG)
Turbine Potsdam (GER) - Roa IL (NOR)