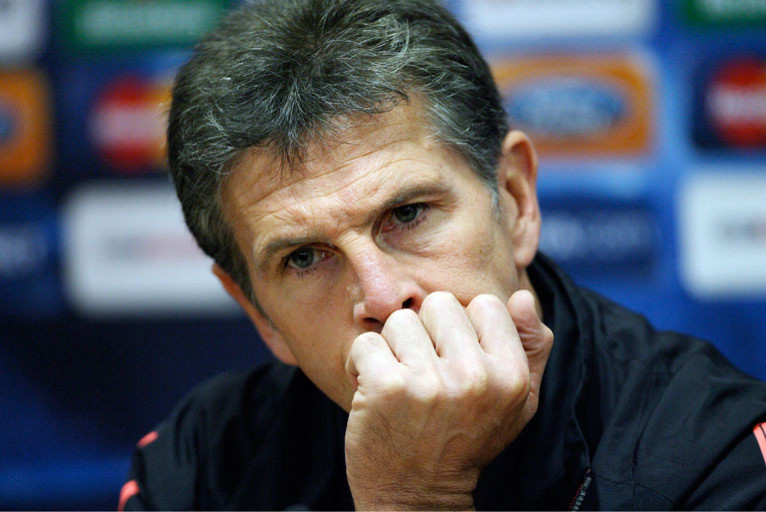 A look back on the French national team...Lloris's performances...and obviously the match against Grenoble...
Claude, what did you think of the France match on Wednesday?
« I'm pleased that they managed to qualify, even if it was difficult. Everyone is relieved. The French goal? It's a shame for the Irish, but this isn't the first and won't be the last time that something like that happens. We should be happy that we are going to the World Cup. Now Raymond Domenech, the staff and the players need to progress. Let's take each thing as it comes ».
Were you surprised by Lloris's performance?
« No, he'd already played like that for us. He played at his level, a very high level. Since he has been at OL, he has taken every challenge and won. He is conscientious and has great quality. He has relly progressed. Thanks should be given to Joël Bats who really pushes his keepers. Hugo feels good and is a leader in his own way. He always analyses the situation well, he is well balanced and sober ».
What is the injury situation like?
« Toulalan is still having treatment, he is out for the game against Grenoble and doubtful for Fiorentina. We'll see where he is for the game against Rennes. Cléber, Réveillère and Gonalons have all started running. Bodmer is progressing. Clerc has trained normally. Cissokho is suspended on Saturday. Who will play at left back? I've made a decision. There are a number of posibilities. Michel Bastos? For Brazil, he has the qualities to play in this position. We brought him to Lille to play in the midfield. »
And Boumsong?
« It's good to have him back. It's just at the right time, with the injury to Toulalan ».
Grenoble on Saturday?
« It's just after an international break which deprived us of 13 players. It happens at big clubs. It's never easy to work during these periods or to refocus after having played emotionally charged matches. Grenoble are a solid side; they put a lot of energy into their play. They did well against Lille and Monaco. What they show doesn't correspond with their position in the table, they haven't been rewarded for their efforts. If we are not present mentally, we can lose. This match is ne of the most difficult we will have to play. It's not easy to win after a two week break and everyone expecting us to do just that. We have an obligation to be present in the right frame of mind ».
How do you explain that OL score a lot of goals towards the end of matches?
« There can be a number of reasons. The physical condition, the character, the collective frame of mind. It's something that you need to balance, a whole. A squad lives on these things and fixes objectives ».
How do you explain all of these goals conceded against Nice an Marseille?
« I don't consider the goals conceded against Nice in the same manner. It was special after the match against Liverpool. Against OM, we took four goals from set pieces. At our level we cannot allow that to happen. Fatigue, certainly, but also a lack of concentration are certainly at the origin of these goals. It is something that concerns the whole team, not just the defensive sector. We have to eradicate this type of absence ».