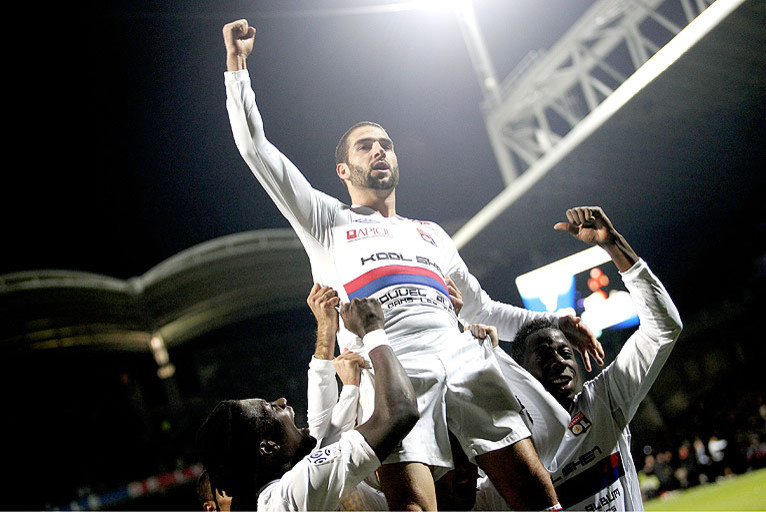 An act marked by the qualification for the last 16 of the Champions League, but also by the first two defeats in the L1, a derby victory....and an incredible match against OM...
OL were in first place in the L1 on the 17th of October 2009 having remained unbeaten in 8 matches. The arrival of Sochaux on that 17th of October would be synonymous of the first defeat followed by another loss against Nice. Bordeaux retook pole position on the night of OL's 4-1 defeat at the Stade du Ray. The derby was won « logically » before the completely crazy match against OM and the 5-5 score line! Going into the international break OL find themselves one point behind the leaders Bordeaux. b>OL have dropped 5 points at home in their last two matches at Gerland. At the same point last season, OL had dropped 2 points (a draw against Lille).

At the end of the day, 4 little points from 4 matches; 7 goals scored and eleven conceded. OL have been behind 3 times in these matches. Lisandro 2, Gomis 2, Ederson 1, Pjanic 1, Govou 1, Bastos 1 were the goalscorers. 7 goals from 52 shots. 7 goals, of which 2 were scored in the first fifteen minutes and 5 in the last quarter of an hour. 4 different starting line-ups were used . If this period saw the return of Lisandro and Bastos after their injuries, they were replaced, in the treatment room by Réveillère and Clerc. Lloris missed out on the trip to Nice, as did Källström. Cris, Toulalan, Makoun played every minute of these 4 matches. 19 different players were used.

In the Champions league, a victory away to Liverpool 2-1 and a draw in the return match gave OL their ticket to the last 16 of the competition after only 4 matches. 3 goals were scored (Gonalons, Delgado, Lisandro) and 2 conceded. On both occasions, OL were behind in the game. The 3 goals were scored between the 71st and 92nd minute of play, 3 goals from 32 shotss. Lloris, Cissokho, Toulalan, Makoun, Källström every minute of both matches. 16 different players were used .

The final act of this first part of the season will start on Saturday the 21st of November in Grenoble. It will go on until the winter break, with 7 matches in the L1 and 2 matches in the Champions League, in other words 9 encounters in 33 days!