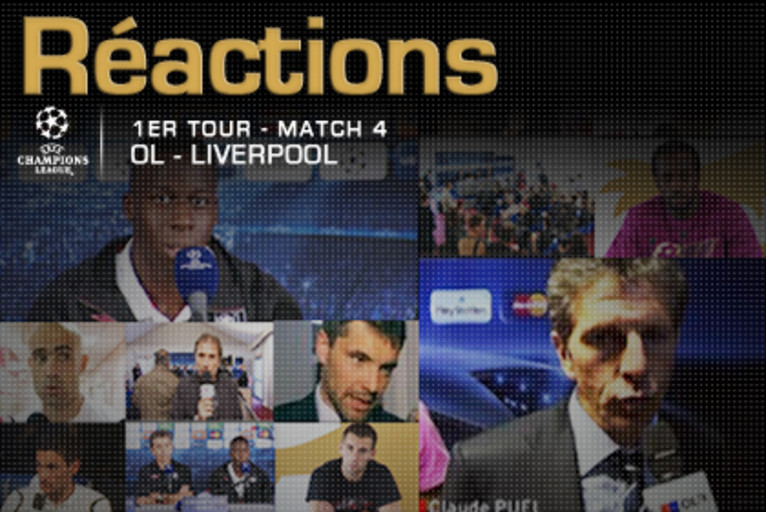 Read all the reactions from the OL players and staff after the draw with Liverpool (1-1) which qualifies Lyon for the last 16 of the Champions League.
[IMG50014#C]
Claude Puel
speaking to TF1
After Bordeaux, it's good that we have qualified for the last 16. It wasn't easy though. While we were playing well we managed to hold on and then we conceded an exceptional goal, from Babel, who almost scored another just after. Hugo saved us in the first half, but in the second we played well.
Kim Källstöm
Liverpool were obliged to win so we had to do a lot of defending. They pushed us hard and we had trouble playing. But, we put in a lot of work and defensively we were present. At the end of the day we managed to pick up the point that we needed to qualify, it's great.
Cris
Tonight we were up against a very strong Liverpool side, who are used to playing this type of match in the Champions League. Liverpool closed us down and stopped us playing the ball out well. When we conceded the goal in the 83rd minute it was tough for everyone. I tried to motivate my team-mates as we were at home and there was still time left. I was right next to Lisandro for the goal, but I left it to him, he's the striker …
Hugo Lloris
I was called into action a little more than usual tonight. I was lucky enough to be able to pull off a few saves, but what we need to focus on is the result. The whole team played well and hard to get the point that we needed to qualify. Even if it will be difficult for them, Liverpool are a great side, capable of anything.
Miralem Pjanic
This qualification is very satisfying, the team didn't let anything go, once again. Hugo kept us in the match, Lisandro scored and that is a good thing as he put in a great deal of effort tonight and in the preceding matches.
I picked up a knock against Saint-Etienne and after having pushed my calf a little too much, I felt pain. We'll see what it is tomorrow. I hope it isn't too serious.
Lamine Gassama
It wasn't easy to come on like that midway through the match, but my team-mates managed to give me the necessary confidence. They spoke to me a lot and gave me advice, which facilitated my entry into the game. There were a lot of great players on the other side, but I did as I was told, I played with my qualities and was careful in my positioning.
[IMG50014#C]