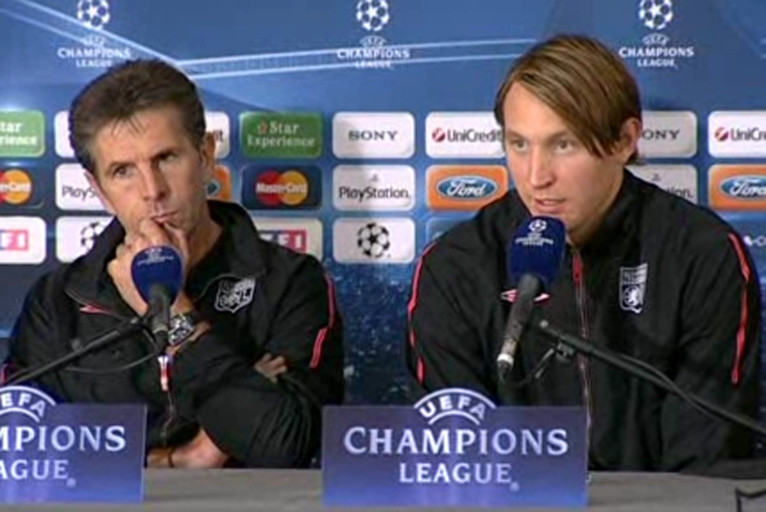 Kim Källström and Claude Puel replied to questions from the press, 24 hours before the match against Liverpool.
Kim Källström

Did the match won against Saint-Etienne come at just the right time?
Yes, after two defeats in the L1 it was important to go and win there. We have a busy week and starting with a win and picking up some dropped points is always good. It sets us on our way.

Despite the victory away to Liverpool, tomorrow's match is important for the qualification. Is it a decisive match?
I think so, it is very important to be able to guarantee qualification as of match 4. Our objective is to win the match. We will prepare as we always do and play to win. Afterwards we'll see what happens. All we are thinking about is winning, even if a draw is enough only a victory counts.

Liverpool will be playing for their future, it will be different from the first game?
I don't think so. They have their backs to the wall, but they will try and play as they did at Anfield. We will have to do the same. The will be using their fundamentals, they have great players who are used to being under pressure. They will be difficult to beat, but I'm not expecting a different Liverpool.

There are absentees and uncertainties for Liverpool, does that change your approach to the match?
Not at all. Those are their problems, all we are worried about is us. We are getting players back which is good for the remainder of the season, but their absentees don't change anything.

In football, Liverpool, are an institution. Is that on your mind?
It makes you dream. When I was a kid in Sweden, English football was the most well known foreign league. The red jersey, Anfield Road, it's all fantastic! But if we think about that when we go out onto the field it will make things difficult! We must put it to one side, we have already played against great clubs.

Is Torres the main threat?
He is one of the best strikers in the world, a complete footballer, who has everything. He is maybe their best player. We will have to be careful but not focus solely on him. I've already played against him at international level, he is very strong, good with the , his movement and in front of goal. We just need to be a little more careful of him!

Liverpool have a great reputation in Europe, are you surprised by their league form? Yes. They are a great team with great players. That happens sometimes, it's not a problem of talent, but confidence. It happens to a lot of teams. But, they remain a team full of great talent.

Do you have first place in the group in view?
I think we are speaking about that a few weeks too early. We'll see after tomorrow's match. We are on our way, but let's wait for tomorrow's results before thinking about it.

Claude Puel

Since your victory at Anfield, Liverpool have beaten Manchester but lost against Fulham. Is this poor run misleading?
You have the question and the answer! After our victory, they put in a great performance against MU. It shows all of their potential and their capacity to react in 3 days. Against Fulham, they played in the same way, but were caught on the counter attack. It happens. They can put in a great performance at any moment. They have the team, players and manager that they need. We just need to hope that it comes after our match.

At the end of the week you are up against Marseille, one point is all you need to qualify. Will that change the way you approach tomorrow's match?
I won't be thinking about Sunday when I decide on the line-up for tomorrow. I have to manage the group, but there are uncertainties. We will try and put out the best team possible, in the knowledge that we have a succession of matches to deal with.

Is it more simple to be one point away from qualification?
No, we don't know how to play for a draw. We have to insure our qualification tomorrow, otherwise we will have to go and win it away to Fiorentina. We are in a group where 9 or 12 points cannot guarantee qualification. We knew it right after the draw that it would be between these three teams. We have to win, that's all.

After the first match, OL went into a poor run, where would you say OL are physically?
We're fine. We put in the match we had to against Saint-Etienne. We are racking up big matches, but paradoxically we will be present physically and mentally. We have to understand what happened after Liverpool, we need to continue our progression and be capable of following on after the big European matches in order to have ambitions, to be more consistent. But I know we will recharge our batteries each time.

How are you expecting Liverpool to be?
The same as they ever are, putting on pressure, moving forward, with a lot of rhythm and knowing how to open the scoring when they are playing well. They know how to put their opponents to sleep and then hit them quickly. Liverpool will play their game, just as they did against Manchester United.

Who will be at right back?
François Clerc is out. He has had a reaction in his knee, not the one he was operated on, but the other. He is also uncertain for the match against Marseille. We will see for Anthony Réveillère, we will make a decision after training.