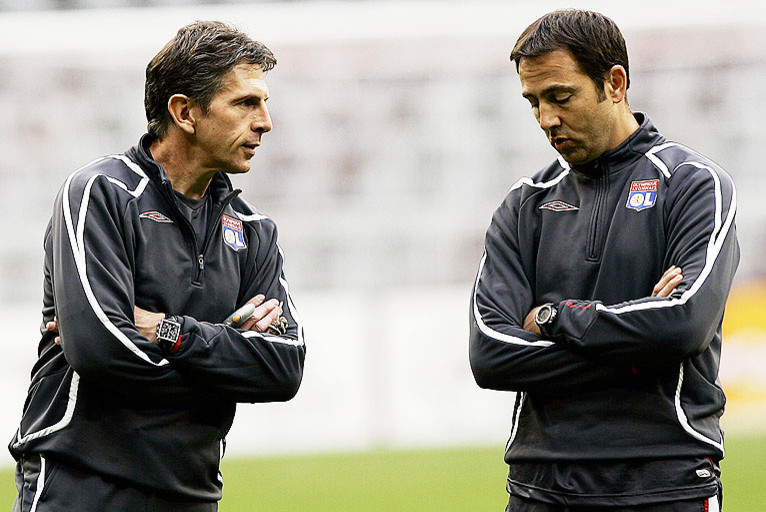 A look back at the two defeats in the league...the injury situation...and this Saturday's derby...
Claude, what does the injury situation look like?
« Bodmer, is progressing in St-Raphaël. Boumsong is coming back well. He has started doing a little of everything. He will have a scan on Friday to check him out. For the others, we'll see. We'll take stock after Friday's training session. All of these injuries obviously make us ask questions, but each case is different. There are those who went through pre-season and tjhose who didn't. There are the international players. We were in form in August and September, but these injuries made it impossible to rotate the squad. Pre-season ? There was nothing evident to put uis on alert. And obviuosly, it's not just about the footwear. In the meantime, we have to manage the sqaud and take into account the muscular fatigue. We'll be doing that for a while yet».

Is the squad over the defeat to Nice?
« Yes, I think so. We just weren't in the match against Nice. We didn't have a side capable of dealing with the build up of matches in the league and Europe. IN one match we show all of our potential and in another our lack of maturity. The squad has to make the step up in this area. The match against Nice was lost between Liverpool and Nice. We hadn't recuperated psychologically from the match against Liverpool. Last season, it was different as the squad was focused on the Champions League. This season things are different. At the end of the day I was more unhappy after the game against Sochaux, as we didn't respect our fundamentals».

Is a derby always special?
« For a player it is a great game to take part in, with a special atmosphere. The coach tries to stay above that, in order to deal with the tactical aspects. OL just have to play their game and stand up to be counted. We play to win, it's all very down to earth. Each time out, there is a challenge to take up with, for the moment, a squad that is not fully operational. Both sides need to make a reaction. We will be playing our third match in a row away from home, that is not easy to deal with either ».

What do you think about Saint-Etienne ?
« They are a side that has experienced ups and downs, but they have potential. Against VA, they were caught out by a counter attack for the first goal. They are a good side who create a lot of good play. They play well as a team and are enterprising at the same time. They have a good squad ».

A word on Lisandro and Gomis?
« Lisandro is coming along slowly but surely after his injury. He still hasn't got back to the level that was his in August. Gomis, is motivated, I think. He is as he always is. He has a lot of desire, he wants to do extra work and sometimes you have to hold him back, just like some of my other players for that matter ».