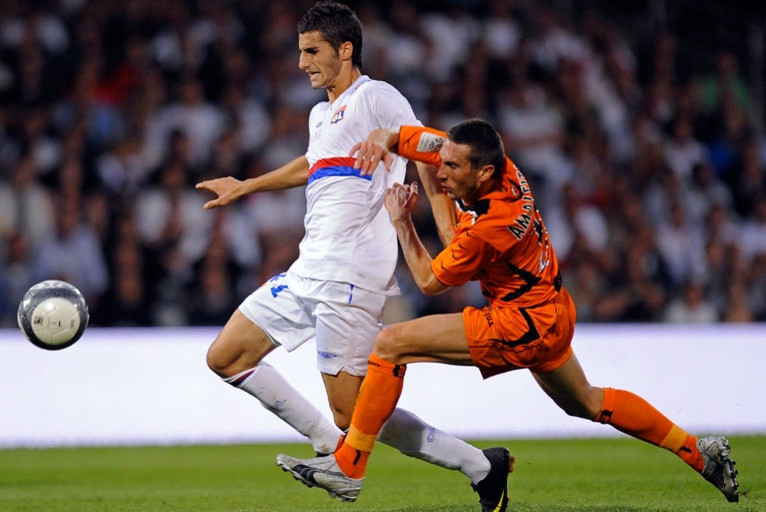 After scoring the equaliser last night at Anfield, Maxime Gonalons looks back on the feelings which have been with him since "this moment which will remain in my mind forever" and which he could quite easily never have experienced because of a staphylococcus aureus.
How are you feeling today, the day after your goal at Anfield?
It's just starting to sink in. The headlines, the media interest, it's all a little strange for me. My phone hasn't stopped ringing. This moment will remain in my mind forever. Scoring at Anfield isn't given to everyone, especially as I'm not used to scoring goals in general. I didn't score the goal all by myself though, I had help from my team-mates. I watched highlights of the match before going to bed last night, I didn't think the ball had gone in like that. At that instant I was on a cloud and didn't really know how to show my delight, I did what I could.

How did your entry into the game go?
At the start I was asking myself a ton of questions, but Jérémy (Toulalan) helped me a lot with my positioning, we spoke to each other a lot. Together we managed to do what was asked of us. I'd only played in that position once before when I was in the under-18's team. Robert Valette, the CFA coach, has been saying for years that I will end up in the centre of defence but, personally, I prefer being further forward, in order to play my team-mates in. I help out at the back when I have to.

What did you do with your jersey?
I wanted to swap it with my friend David N'Gog, but I didn't see him at the end of the match, so I just kept it.

How far can OL go in Europe this season?
It's a good year. We have a very good squad and we want to go as far as possible. I think that we will make the last 16 and why not go further than the quarter-final?

You had a serious injury last season. Could you tell us what happened?
During the summer of 2008, I picked up a staphylococcus aureus which went from my ankle to my pubis. It kept me away from football for three months. I spent 10 days in intensive care at the hospital. The doctors thought they might have to amputate and I saw my career finished before it started. I underwent some heavy treatment, which consisted of about 15 antibiotics per day during three months. My family, agent and the club were very supportive of me during this period. It took me six months to get back, thanks, in great part, to the work I did with Guillaume Tora, who at the time was the fitness coach for the CFA squad. I only got back to my peak in January.

How do you see your progression going?
At the start of the season my objective was to become a consistent starter in the CFA side. When the coach gave me an opportunity during the friendly matches I jumped at it and gave my maximum. I've been through some tough times, after them I said to myself that I had to give everything I had out on the pitch. Today, I have managed to make a place for myself in the squad and my team-mates help me out a lot. Now, it's up to me to work hard in training, because that is where my success will come from. You always have to be ambitious, always put yourself in question. Right now, I'm trying to keep my head on my shoulders.