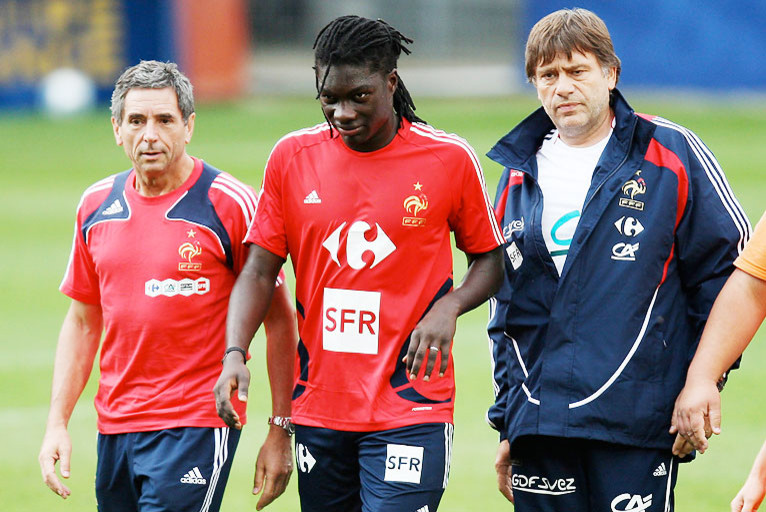 After training this morning, Claude Puel and Emmanuel Orhant, the OL squad doctor, spoke about the health of Bafétimbi Gomis, the day after the attack he suffered while on duty with the France squad.
Dr Emmanuel Orhant (Olympique Lyonnais doctor)

« It's an attack that is mainly due to a drop in blood pressure and stress. These attacks are well known and happen frequently. Yesterday, I had Dr Simon on the telephone (Ed: French team doctor) to have a rundown on the situation.

Bafé has been diagnosed since the age of 17, when he was at the youth academy of Saint-Etienne. He even told us he had an attack at the age of 14. His first big cardiac diagnosis took place in 2002, and after the recurrence of his attacks, other tests were run in 2004, 2005 and 2007.

Each year he has tests like any other heart patient, and these tests are very thorough. He has even been put into extrreme circumstances to try and recreate an attack, which in turn proved that there were no problems to his health. I have received reports from around ten doctors who have seen him over the years. They are all convinced that there is nothing to stop him from continuing to practice his sport.

We have all the guarantees, this year Bafé had tests with Saint Etienne at the start of the season and then with us when he arrived at OL. At OL we have cardiac testing every year and biological testing every three years. We are at the forefront of what is done in Europe at the moment.

Afterwards, we also keep asking questions. I contacted the French team's medical staff and the cardiology service that we work with in Lyon, straight away last night to see if there was anything else tha we could do. Our job is to make sure that Bafé is 100% healthy. With the tests that we put him through, I can say that he is. We are not worried. The least worried of us all is Bafé. But, we have to remain vigilant… »


Claude Puel

« The first time it happens it is surprising. We are alert, especially with what has happened in preceeding cases. We have had all the tests possible done and we have been assured that there are no risks. It's part of his personality, things that happen. He and his entourage live with this very well. He is not worried. We aren't dealing with his case lightly, on the contrary, we take it very seriously ».