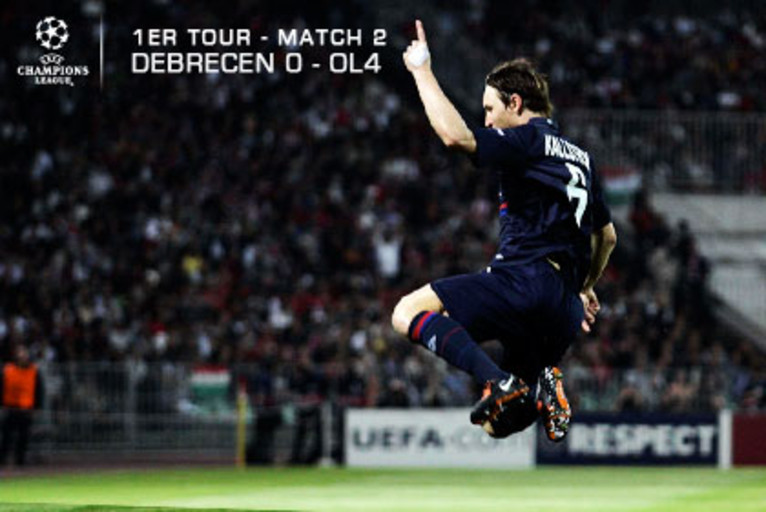 With their large victory over Debrecen (0-4) last night, Olympique Lyonnais signed off on their biggest win away from home in their history in a European cup competition.

0-4. By brushing aside the Hungarian champions last night during the second Champions League group stage match, Olympique Lyonnais signed the biggest away win of their history in the Champions League . Even better, OL had never had such a win in all of the European cups combined (Champions League, UEFA Cup, Cup Winners Cup, Fair's Cup) and acheived, at the same time, the fifth best French away performance in the Champions League after the Stade de Reims, in the first round against Jeunesse d'Esch (1960, 0-5), Olympique de Marseille, also in the first round against Union Luxembourg (1991, 0-5) then, against Glentoran (1992, 0-5), and AS Monaco, who won with the same scoreline against Deportivo La Coruna in the group stage (2004, 0-5).

If Olympique Lyonnais have often put in spectacular performances away from home, with victories of 3 goals or more (2007/2008 Glasgow Rangers 0-3 OL, 2006/2007 Steaua Bucharest 0-3 OL, 2006/2007 Dynamo Kiev 0-3 OL, 2005/2006 Olympiakos 1-4 OL, 1974/1975 Differdange 1-4 OL), the OL side had never won by such a large margin (4 goals). They have since last night.

At the time being, the largest OL victory in a European competition dates back to the 1974-1975 season. Lyon were victorious at home against the Luxemburgish side Differdange (7-0) in the UEFA Cup, with a notable hattrick from Bernard Lacombe. In the Champions League, OL have won with a five goal margin on three occasions at home: 2002/2003 OL 5-0 Rosenborg, 2004/2005 OL 5-0 Prague (1st Round) and OL 7-2 Werder Brême (last 16).