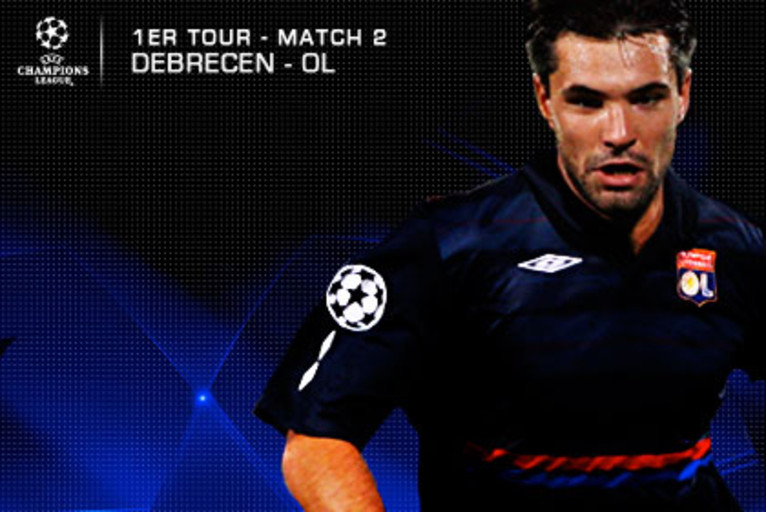 Against VSC Debrecen, a priori the weakest team in the group, OL have a good chance of building on their win over Fiorentina. Unfortunately, Claude Puel will be deprived of a number of players for this trip to Budapest…
Lisandro, Bastos, Boumsong, Bodmer, Delgado, Cléber all remain in Lyon for treatment . It was with a quite young squad that OL made their way to Hungary. An OL side that once again had to battle hard to overcome Toulouse. The 4th game since the international break… A 4th battle in order to not fall, or sink before getting back into the match (against PSG) or win (Lorient, Fiorentina and Toulouse). This OL version 2009-2010 has a very strong mentality. An OL which has constantly had trouble in the first half of matches since the break, before bouncing back after the break, often with a change in personnel, formation and putting their guts into the game.

This return to European competition is a return pretty much into the unknown because of the absentees, but also because of the opponents. This Hungarian opponent, a first for OL, who are taking part in the Champions League for the first time in their history; who have shown great strength in making it through the preliminary rounds and qualification matches... and who only lost, two weeks ago, 1-0 away to Liverpool, whern they had be promised hell. Bodnar, Scelezi, Rudolf are internationals, but at what level is Hungarian football, a football which was so brilliant in the past ? It doesn't matter, OL should be wary as they step out into the Ferenc Puskas arena in Budapest.

The VSC are not playing in their home town of Debrecen, in a stadium that can only hold 10 000 spectators. Advantage or not? This side will certainly be hoping to do more than make up the numbers in this group, hoping to pull of an exploit and also play their role of referee between Fiorentina, Liverpool and OL.

The seven times French champions would do well to add three more points to their total before heading off to defy Liverpool. The Reds making themselves the trip to Fiorentina on Tuesday night … This will not be an easy ride for Torres and his team-mates; a defeat, or even a draw, would severely limit the ambition of the Viola. Three points would consolidate OL's position in view of a seventh consecutive qualification for the last 16 of the competition. With Bodmer, Cléber and Boumsong absents, Seguin lacking experience… Cris's partner in the centre of defence will be the magnificent Jérémy Toulalan, once again impeccable in the second half of the match against Toulouse. The former Nantes player will relinquish his place in the midfield. Will Claude Puel innovate afterwards or put his faith in more experienced players ? But, when you look at the superb performance on Saturday evening of the young Tafer, youth doesn't appear to only have disadvantages, especially at OL.

On the banks of the Danube, of which Budapest is the Pearl, we should have faith in this squad who remain unbeaten in 2009-2010, they may from time to time give cause to worry but also know how to give pleasure … and obtain results, often at the end of epic battles.