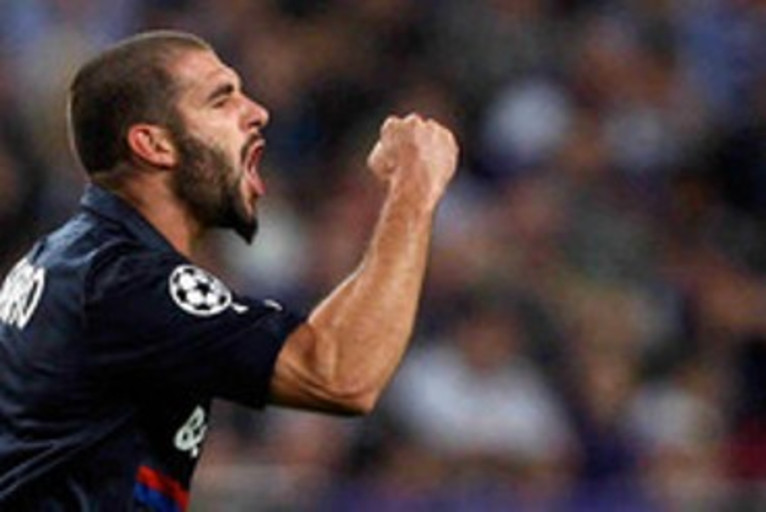 This morning, after training, Lisandro Lopez came to answer questions at the Press Conference. The Argentinean spoke about his injury, his start to the season and his integration at Olympique Lyonnais.

Firstly, how are you feeling?
I had a medical examination this morning. We'll have the results later but everything is ok. Will I be playing this week-end? I don't know. We'll see how the injury evolves and then it will be up to the coach to decide.

Now that a few days have passed, what do you have to say about the draw away to Paris (1-1)?
I think the fatigue from the match against Fiorentina caught up with us, but Paris Saint Germain played really well. We didn't put in a very good performance and we have to improve on that. On a personal level, I paid for my efforts in the Champions League.

After six matches in the league, you are being presented as one of the « stars » of Ligue 1. Are you surprised? Do you think it is maybe a little premature?
It's too soon. We've only played six matches. I'm satisfied with my start to the season, but I still have a lot of work to do. I just hope that I can continue as I have done so far.

What has been your best memory since the start of the season?
On a personal level, the return leg against Anderlecht. It was the first time that I scored a hattrick and it was important that we consolidate our victory from the first leg in order to qualify for the Champions League.

You've already played in a number of positions since the start of the season. How do you feel about that and what is your favoured position?
Yes, I have had to do that, at the demand of the coach. Things have gone well. I ca, play across the front of the attack. But, I won't hide the fact that I prefer to play as a striker.

What is your opinion of your team-mate Bafétimbi Gomis?
He's a great player. In the way that we are playing at the moment it's good to have a player like him who is mobile and acts as a pivot. He can bring a lot to the side.

You've been in Lyon for three months now. How do you like your new life?
I feel really good. I have been welcomed and treat very well, whether it be on a sporting or personal level. I'm very happy.

You are quite a discreet person. Why do you not speak out more often?
That's a very personal question. I have nothing against the Press and journalists, but I'm not comfortable with them. Unless I am obliged, I prefer not to make any declarations. Maybe I'm shy, I don't know …

Are you also shy with your team-mates?
It's part of my personality. With my team-mates I try and make an effort so that they feel at ease with me. But, more than anything I just try and do my job well. In this team, we are like a family, we are all working towards our common objectives. Outside of that, everyone has their own personality.

On Saturday, you will be up against Pierre André Gignac, the top scorer in the L1 last season. What do you think of him?
He is a very good attacker. We will have to be vigilant and make sure that he doesn't score on Saturday.

To finish up, could you speak a little about the World Cup qualifiers with Argentina?
The next two matches are going to be extremely important. We cannot make any more mistakes, we have to win both matches to keep our hopes of making the World Cup alive. Even if we have to play a knock-out match.