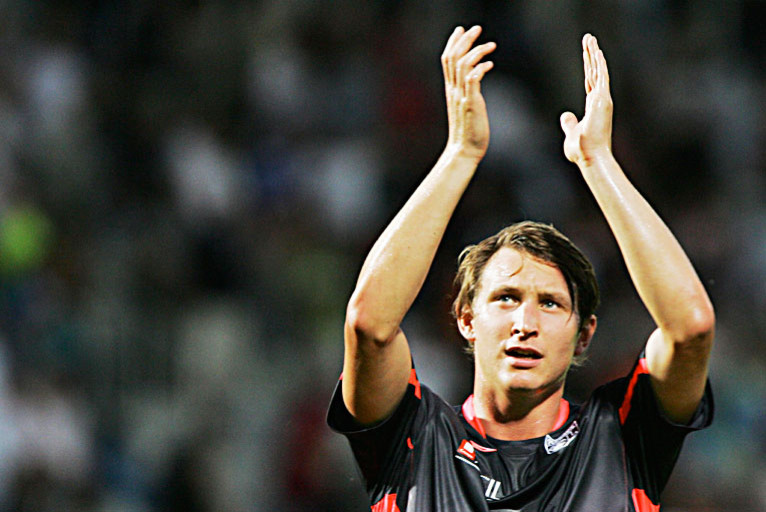 After training this afternoon, the Swede Kim Källström looked back on OL's match against Paris Saint-Germain (1-1). He also spoke about his good start to the season and the perfomance of Hugo Lloris at the Parc des Princes.
Two days after your trip to Paris, what can you say about the result?
We were up against a very good Paris Saint Germain side. It was a complicated match but we managed to bring back a point. It's good as we remain unbeaten this season. But, not everything was perfect and we will have to work on wwhat went wrong.

What did go wrong against Paris on Sunday night?
We had trouble defending, they were very pacy up front and we let them have too much space. We really need to defend better. Maybe we could have left them the ball a little more as well. It's easy to say in hindsight, but when you're out on the pitch things go very quickly. On the other hand we were strong in the final fifteen minutes and were able to keep the ball well, which is good. Our substitutes also helped us make the difference …

Do you think that you would have lost the match last season?
I think so. Last season we didn't manage to equalise at the Parc. But, just like the match against Lorient, we would have had a harder time last season and I don't think we would have been able to win. But, it's good that we didn't give up.

We're you surprised by the performance of Hugo Lloris?
No, not at all. I see it every day in training, he is the best keeper in France. Just like Greg Coupet in the past, Hugo knows how to be decisive at important moments. It's good for him and the team. If you want to play at the top level then you need a great keeper, we have that at OL and we're happy about it.

On a personal level, how has this start to the season been?
Very good. Last season was complicated as I played in a number of positions. Pre-season went well and I have no doubts about my abilities. Last season was tough mentally. But, in a career there are ups and downs and I didn't give up. It is when you are faced with adversity that we see if you are strong or not.

On Saturday you are at home to Toulouse. What is your opinion of this side?
They are a strong side that put in a good season last year. They have a great striker (Pierre André Gignac), who is always difficult to play against. They went and won away to Partizan Belgrade last week, which was impressive. We will have to be wary of them.

A word on Lisandro Lopez ?
He's a great player, an all round striker of the highest level. He's a really nice guy who has adapted well. Since his arrival he has shown the full extent of his qualities, he has scored a lot of important goals. He is easy to play with. He is a very mobile player, very intelligent in his positioning just like Karim. Heis work rate is phenomenal and his desire to always win is impressive. He is going to do us a lot of good.

To finish off, could you speak a little about the World Cup matches with Sweden?
We were in a difficult situation before the last two matches, then we took six points. Now our situation is better, we have our destiny in our own hands. It would be an exploit if we managed to make the qualfying matches after our catastrophic start.

A qualifier between Sweden and France?
It could happen, but if we can avoid France, it would be better.