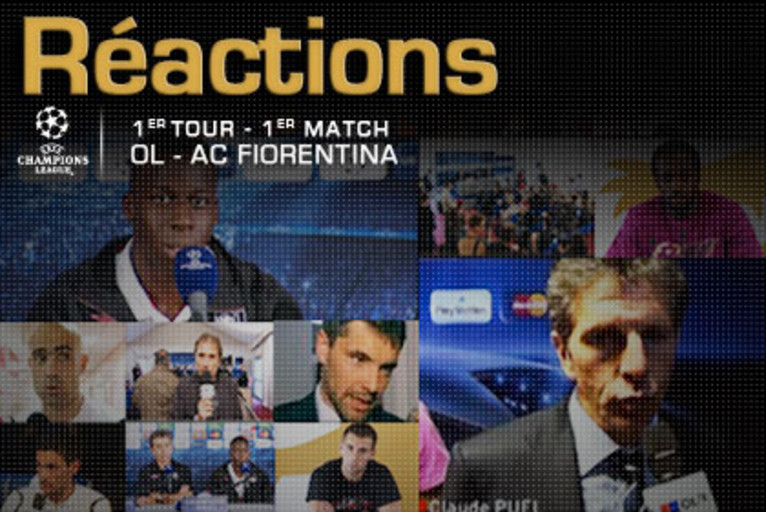 All the reactions from the OL staff and players after the victory, 1-0, over Fiorentina.
[IMG50014#C]
Claude Puel
(speaking to Canal+)
Tonight we had to adapt to a particular type of refereeing. In the second half we didn't try to get ahead of ourselves and we were able to force the decision. I'm just disappointed that we weren't able to score a second goal. But, we were able to win the encounter. The substitutes brought a lot to the side, Jérémy Toulalan was extraordinary in the centre of defence. The squad has a real strength and team spirit. It's a great way to start off at home. They were a very difficult side to play against as they are very experienced. Tonight, we managed to remain calm, even if I believe that we can play a lot better, but I'm not going to complain.
(on OLTV)
We were up against a quality, mature, well organised and disciplined side. It was a tight encounter during the first half, we had difficulty in clearing the ball but we were rewarded for our efforts in the second half. We could have even added to the score and it's a shame that we stayed at 1-0. But, it's never easy to play against a team a man down. The substitutes brought a lot of energy and Jérémy Toulalan showed a great ability to adapt. The match against Debrecen won't be easy. We will have to find space, solutions and these type of matches are always difficult to get through. We will have to remain focused.

Bafé Gomis
It was a great combat tonight, a very complicated match against a competitive side who didn't let anything go. The sending-off made the match easier for us. After the break, they regrouped but we were able to get the ball out of our half. We lacked a little luck, but managed to force the decision. It's good that we started with a win, it bodes well for the future.

Miralem Pjanic
It wasn't an easy match, it was very aggressive. We were patient against a tactically strong side that didn't leave us a lot of space. We created a lot of cghances in the second half and we piled on the pressure. We could have scored 2 or 3 more, nut their keeper was in great form. I'm feeling good this season, I'm playing more, I am a lot more confident in the team. I'm scoring, I'm making a lot of passes which helps things. There is a good atmosphere within the squad, the coach is rotating the squad so everyone is involved. We have to build on our base in order to have a good season.

Ederson
Physically I'm feeling good and was delighted to get back with the squad. I was happy to be back,but was also happy to see the team play with so much desire. It was a real man's game tonight, we had to be strong and we fought well. The victory has done us a lot of good, it's always good to start the Champions League with a win. But we have to keep going, we have what it takes to get out of this group.

Sidney Govou
I'm in form and on top of that the team won. It was a difficult match tonight and the victory took a long time to come around. We have to be honest, the sending off of Gilardino was a turning point in the match. Afterwards we were able to hold onto the ball, pass it around better and bring the forwards into play more. This victory sets us on our way, it's always good to start the Champions League with a win. But, I'm not surprised, this team has a lot of quality and has a perfect mentality.

Jean Michel Aulas
It's a great victory, a first against an Italian side at Gerland, especially as this Fiorentina side are a step up from the Anderlecht side that we faced. I was a little worried in the first half, notably concerning certain refereeing decisions. But, in the second half, the team played very well against an Italian side that was well organised and came here to pull off an exploit. We managed to remain calm in order to take this victory. Sébastien Frey deserves praise for his performance, he pulled off some fantastic saves, but was also maybe a little lucky. Without him, I think the score would have been a lot heavier.
[IMG50014#C]