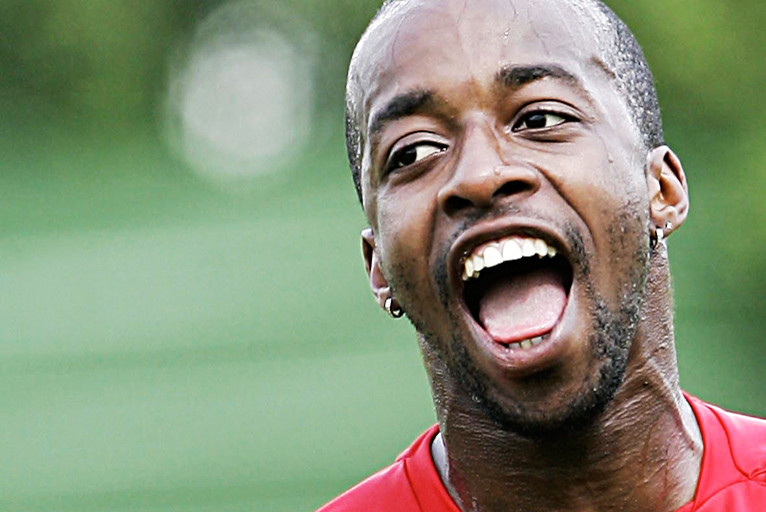 Sidney Govou is back after the injury to his thigh. His desire to get back into competition was plain for all to see at the press conference…
A press conference with « Sid » is like a game of table tennis. His replies are rapid, precise, concise, interesting and often bring headlines for the medias. 106 minutes of play, 1 yellow card, 2 shots including one clear goalscoring opportunity, then the injury to his thigh, on the 15th of August, which kept him out of competition for about a month, this press confernce had to start with questins about his health . « Yes I'm ready, I'm even feeling really good. I'm no longer in pain and have been able to put in physical work. I'm really going to get my season started after this injury which has messed it up. I hope to be back in style on Saturday. I'm ready to play 90 minutes… the coach knows that ». Those who saw him in training during the international break can confirm it. « Sid » was often at the front of all the exercises … a « Sid » in impressive form.

[IMG50154#R]Competition for places , the team has been playing well during his absence and he is well aware of that. « The side put in some great performances in August. They are on course for their objectives of retaking « their » title and putting in a good run in the Champions League, which starts with making it out of the group stage. I want to bring my experience to the team, I want to participate. As far as competition for places is concerned, it can only be a good thing. It is not a problem for the players, but for the staff. The players have to be ready and the staff have to make their choices My position ? I've already played on the right, the left and centre forward … There's no problem ».

The longest serving OL player in the current squad is also well placed to talk about the differences compared with last season. « The team has shown it is capable of changing style of play, formation, that danger can come from anywhere. The start of the season has also shown that different players can step in without the quality of play changing. Tactically, we have a lot more possibilities this season . We have proven that there is a collective spirit, that we are strong and can put in a lot of work. Everyone is pulling oin the same direction ». Were things made easier by the fixture list? « Our fixtures have not been easy. We made them easy, but it wasn't a simple thing to do. OL have quite simply been in great form. Here, we are used to playing a great deal of games in a short space of time. Does that make us more sure, I don't think so. Let's not forget that we have lost two very important players, players that cannot be replaced over night ».

[IMG50124#L]A busy programme, like always, which starts again against Lorient «We are OL and even if the opponent counts, the most important thing is us. We have to get back at 200%, get back to winning ways. We're used to international breaks here, afterwards we'll see how things go, what the coach decides to do … ». Having played in all 10 of OL's Champions League campaigns, he has a keen eye on the subject which kicks off with the home game against Fiorentina. « A first match at home is always important. We will try and make sure that we do not put in the same performance as last season. Afterwards the context is different. We have to start the competition somewhere … The aim is to qualify from the group stage, a group in which Liverpool are logically favourites. If we could finish in first place it would be a plus. The other ambitions ? It all depends on outside factors so it's delicate to talk about it ».

A Govou in top form is often a Govou called up for international selection. So, the France side? « I watched the two matches. The match against Serbia was reassuring, especially with the special context. We have to remain confident for the rest of the competition . The scandal? A lot of things are always said, I don't know what happened exactly. » What about the misfortune that befell Hugo Lloris? « I don't think that ir=t will affect him. He didn't make any mistake, we'll talk with him about it. We have faith in him. He has shown that he is France's number 1 ». At to finish off « Sid », how are the contract talks going? « We've spoken. We have to meet up again. I'm not worried about it. I want to finish my career at OL».