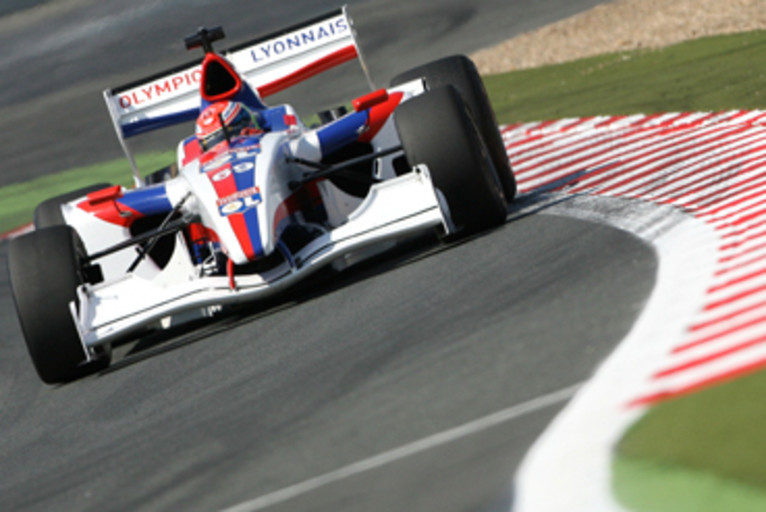 The 4th grand prix of the Superleague Formula will take place this week-end in Portugal on the circuit at Estoril.
After three races: Magny-Cours, Zolder and Donington, Liverpool are in pole position with 217 points ahead of FC Basel with 207 points. Olympique Lyonnais are in 17th place with 82 points. After Estoril there will be two other Grands Prix, one in Italy and the other in Spain.

On Saturday the qualifying times will take place at 15h10. At 16h30 the starting line-up will be known for the first round. On Sunday there will be three races. Two normal rounds and a suiper final as took place in France. The first race will take place at 11h00 and will last 45 minutes. The second, with the starting grid inversed, will take place at 14h00. It is from these to races that the points total will be taken into account for the rankings. The super final will be raced between the first three teams from the two preceeding races.
This Grand Prix sees some changes with the arrival of three new pilots. The first is the arrival of Sébastien Bourdais who will take control of the FC Sevilla car. A woman will also take part in the competition, Maria Villota. She is 30 years of age and will be driving for the Altletico Madrid team. She will also be the first woman to participate in this young competition. Atletico Madrid are in 9th place in the standings at the moment. The other change is that Carlo Van Dam will take the place of Dominic Muermans in the PSV Eindhoven car.
The arrival of Bourdais in the competition is good news and gives supplementary motivation to other pilots like Nelson Panciatici who hopes that his car will have been tuned up so that he can rival his opponents.
Since the first Grand Prix which took place in France, the races have always been won by a different team: Liverpool, AC Milan, Tottenham, AL Alain, Bâle et Porto. Liverpool have been in first place in the standings since the start of the competition.