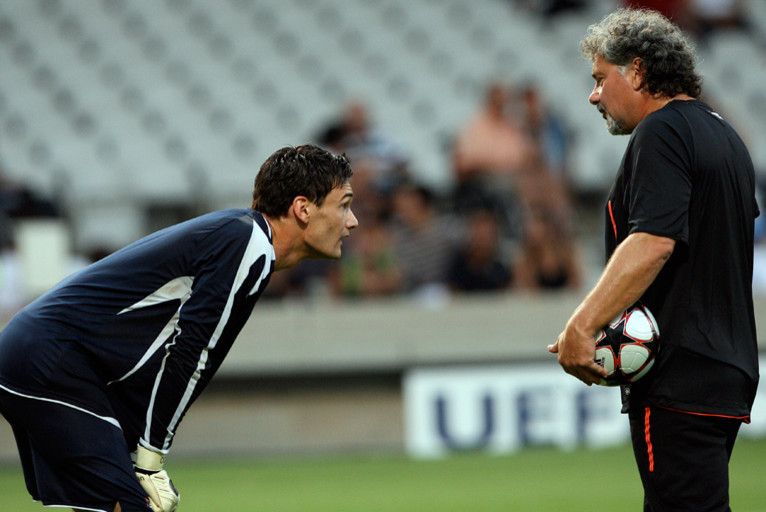 Just a few hours before the return leg against Anderlecht, at the players hotel in the centre of Brussels, we met up with OL's international goalkeeper...
It is always a pleasure to sit down and talk with Hugo, the future French number 1, we hope, goalkeeper. This young man has the art of speaking well. His words show is ambition to succeed in his job. « At one point, I wondered if I should stop my career and continue my studies. I chose to carry on and I don't regret it. I know where I want to go . As long as I haven't managed it, there is no question of letting go …. ». Hugo is happy. He appreciates the start to the season despite certain imperfections. « The first twenty minutes against Auxerre were catastrophic … but we also showed our qualities. When we play, it's impressive … ».

A start to the season in which he has often been solliceted. «It's true. But I'm taking part like the rest of the group. Last season, I was frustrated as I didn't have much work but I was conceding a lot of goals ». Can this OL side be ambitious? « Yes. We are very strong collectively . And, we aren't as exposed as we have been in previous years. It's not so bad that people aren't expecting as much of us ».

Hugo is more and more experienced on all fronts. «I discovered the Champions League last season; I learnt a lot. Everything is played at greater pace than in the L1. Then, there is another level altogether with the France side in official matches. » A European match that marked him ? «That's a difficult question to answer. The first leg against Barcelona, for a number of reasons … or even the match against Anderlecht ». So, is this qualification a done deal? « No. We have to finish the job. Anderlecht will be out for revenge. We will have to be wary and take the match seriously. » Hugo adds: « I want to get out more and pick up the ball all over my box . But in no way will I take any risks, there is no question of putting the side in danger…"

[IMG43579#L]Finishing off the job properly thanks to the new side that he appreciates already. « I'm optimistic … When you see the work put in by Lisandro or « Bafé...And to think that certain people feel our side lacks some big players. I'd say we have the right players in the right positions … Just look at Barcelona...».

An imaginary ball crosses the conversation, a ball to grab ahold off during Tuesday's match. « If « Juni » was still with us, he would have a great time with all the shots he would be able to fire off. These balls are so light, they are very difficult to negociate for a goalkeeper … ». He does, however,admit that during some matches he feels invincible. "It's not something you can predict and it often comes around when you are feeling the opposite...It often depends on the first save ". There is no way that he wil be getting a big head though. Just the rewrads of the hard work put in everyday; work that needs to be repeated so as not to have any limits.