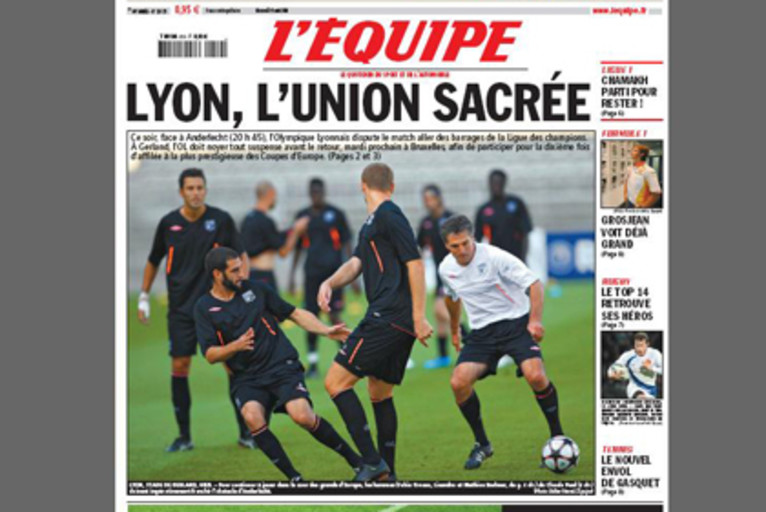 The encounter between Olympique Lyonnais and Anderlecht made the headlines in the Press on today: « A sacred union » for L'Equipe, « OL have to avoid the trap of Anderlecht » for Le Progrès, « OL must get over the obstacle of Anderlecht » for Le Dauphiné Libéré, « Olympique Lyonnais must avoid a bad Belgian joke » for Le Figaro.

In L'Equipe, Vincent Duluc says: « we aren't really able to situate where Lyon are at the momentand just how much the French champions of the years 2000 should be worried about Anderlecht » and adds « it would appear to be a complicated qualification match, starting with the fact that the return leg is in Belgium ». To go into the match in Belgium without too many worries, OL must not concede and score one, or more, goals. In order to do so the seven times French champions will be counting on their new recruits, notably Michel Bastos. The Brazilian, wh states he is « neither Malouda, nor Juninho », can only see one outcome to the match: « we have to qualify, it is the pressure that is present in all great clubs, one that I came looking for by signing at OL. »
« Watch out for the gauchos » warns the sports paper when speaking of the three Argentineans of Anderlecht: Lucas Biglia, Nicolas Frutos and Matias Suarez.

In Le Progrès, Jean-François Gomez notes that « the time has come to send out a strong message, a victory without conceding for example, would give them a minimum of comfort before the return leg ». The regional daily paper underlines the fact that the statistics do not speak in OL's favour: over the last 10 years, in two-legged matches, with the first leg at home, OL have only qualified on one occasion (against Celtic in 1999) : « it would be a good time to do somrthing about that statistic. »
Speaking to Antoine Osanna, Cris explains: « we're going into this match as if it was a white hot last 16 match. But, we are ready. (…) We have everything it takes to go through. But it's true, we cannot mess up. »

La Provence speaks about the desires of the Marseille community, which this match has not left indifferent: « without being an OL supporter, I really hope that there will be three French teams in the Champions League. It will give them a few more matches to play », declares Laurent Bonnart. « When I watch OL play, I always learn things , revealsCharles Kaboré. And you know, we can always dream about a final between OM and OL."

In Le Parisien, Yves Leroy writes about Aly Cissokho. In regards of tonight's match, the new OL full back is ambitious: « 2 - 0, would be great ». « I really want to play in the Champions League, not watch it on the television » he confides.