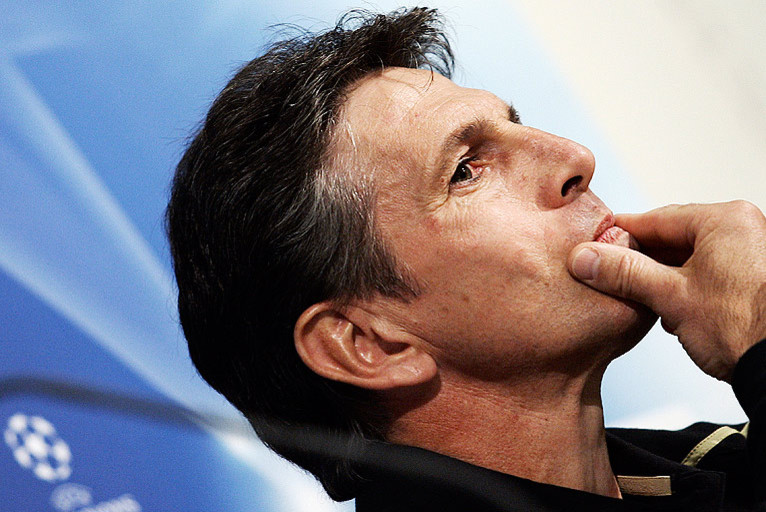 Michel Bastos and Claude Puel spoke to the Press before the match between OL and Anderlecht. The OL coach, who has "a lot of respect" for the vice-champions of Belgium, says he is "generaly satisifed" with the evolution of OL's play: "we're on the right track".
Michel Bastos
It's going to be very hot tomorrow, does that worry you?
A little. We've spoken about it, it's annoying but we will adapt. I come from a hot country and it will be the same for both sides in any case, we just have to give our all and forget the heat.

[IMG50132#L]How are you preparing for this match?
It's a very important match for the club. We have to win so that we can go to Brussels without any worries. We've shown some good play so far, but there is a lot of room for improvement. It's the start of the season and, little by little, things will come good.

What does it feel like to be playing in the Champions League with Lyon?
I came here to play top level matches. OL are a big club, who are used to playing in the Champions League, who play each competition to win it, it's fantastic. We just want to qualify and then go as far as we can in the competition.

Do you know the Anderlecht side?
I've already played against them (with Lille). I saw a couple of games from the Belgian league as I have friends who play for Standard Liège, but I have to admit I don't really knwo too much about the Belgian league.

Is it difficult to prepare for a match against a side that you don't know very well?
It's difficult, we would have preferred to have played against a side that we knew better, but it's all part of the game. If they are there, it's because they deserve it.

Are you impatient about scoring your first goal with OL?

I know what I am capable of. People are expecting a lot of me immediately but I'm not thinking about it too much, if I did I would be under too much pressure. Things will gradually come around. I know that at one point I will score and put in decisive passes. It may hapen tomorrow night, what is important though, is that the team wins.

[IMG50014#C]

[IMG50130#R]Claude Puel

Are you worried the match could be like the one against Valenciennes ?
I have a lot of respect for Anderlecht who are a strong side. I don't know if we will be able to create as many chances as we did against Valenciennes. I'd like to but I don't think it will happen: Anderlecht are a side with a lot of arguments going for them.

Are you worried about your side's lack of realism in front of goal recently ?
We have managed to create a lot of goalscoring opportunities which is the main thing, we will be able to work on the finishing. It would have been worse had we not created any chances. I'm satisfied with our play at the moment, even if there are a lot of things to work on. We're on the right track.

Does the heat scare you?
In general, high temperatures help out the defending side: to make the play you have to spend a lot of energy. The heat will be an important factor that will have to be taken into consideration. But it will be the same for our opponents.

Which Anderlecht player are you the most scared of?
We respect all of the players, but we're not scared of them. They have Boussoufa, Polak who brings a great deal to the midfield, Suarez. They are a very physical side, especially at the back, with some technically strong players as well. They are a complete and interesting side.

Do Anderlecht seem stronger now, compared to when you played them with Lille?
I would say so, yes.

OL haven't won a two-legged match in three seasons. Does that bother you ?
Despite the fact that we made the last 16 against Barcelona in the Champions League, we've lost the habit of playing two-legged encounters. In these tupe of matches, you have to manage things differently. We will see how the match is going, and take into account the different parameters like the heat, the score, the oppoonent …

Is the memory of the elimination by Maribor (in 1999) still remembered?
The only person here now who experienced it is Sidney Govou, and he won't be playing to morrow. Expectations and even the configuration of the match are totally different to those which surrounded the Maribor match. We know that we are going into a two-legged qualification match which is going to be difficult, that's all we need to know.