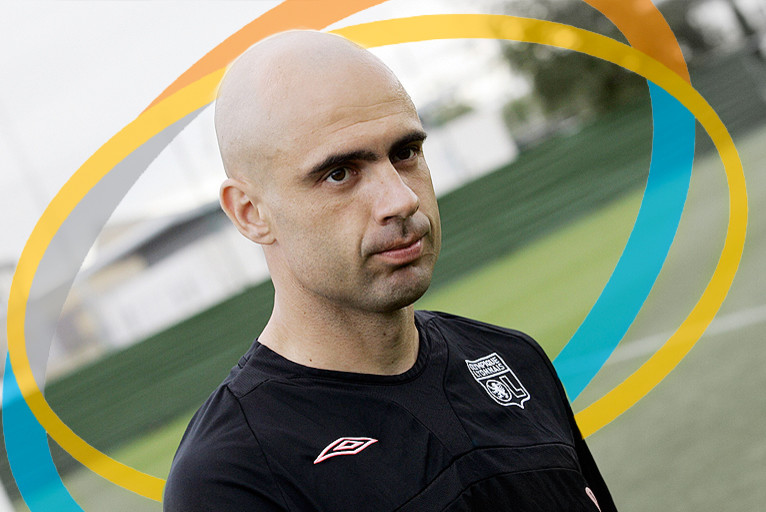 Claude Puel's side will continue their stay in the south-west of Spain with a friendly against FC Sevilla on Thursday.
Tuesday July 28th
Claude Puel's side will continue their stay in the south-west of Spain. This will be the chance for them to play a friendly match against the FC Sevilla side of Squillaci and Kanouté on Thursday at 21h30, this game will also see the debut of Lisandro Lopez for OL.
Despite not getting back to the Hotel El Rompido until late, the OL players were given rendez-vous this morning at 10h00. The starting players from the match against Porto went out biking for 45 minutes in the cmpany of Sonny Anderson. Anthony Mounier and Jean II Makoun remained in the treatment room. Jean-Alain Boumsong and César Delgado were also absent.
The rest of the squad took part in a classical training session at the El Rompido stadium. Hugo Lloris, who missed the first two matches of the Peace Cup because of a throat infection took part in the session normally, as did Lisandro Lopez. The Argentine forward once again impressed everyone, while Mathieu Bodmer showed off his technical ability.
[IMG50014#C]
Monday July 27th
Sidney Govou is 30 years old!
Sidney Govou is celebrating his 30th birthday on Monday. Born on the 27th of July 1979 in Puy en Velay, he is going into his 11th pro season with Olympique Lyonnais. Th eforward could even prolong his stay at OL, with his contract running out in June 2010, he announced in todays l'Equipe his desire to stay at the club: «
I love Lyon and am loved here. (…)Real Madrid and Barcelona won't want me. Afterwards when you look at the list of great European sides it is difficult to find better than OL, worse is easy, better not so!
»
Sidney Govou, who has been captain in the last two friendly matches, has taken part in all of OL's title wins. His medal list is impressive: 7 French titles, 1 Coupe de France, 1 Coupe de la Ligue, 4 Champions Trophies. He also won the Confederations Cup with France in 2003 and took part in the World Cup final in 2006.
OL get warmed up
The squad took part in an hour long morning trainng session in the Cartaya stadium (20 kms from Huelva).
Hugo Lloris and Jean 2 Makoun took part in this final training session before the match against FC Porto. Things are also looking better for Fred Piquionne who is available again and for the Argentineans Lisandro Lopez and César Delgado, who took part in the first part of the session before doing some work in front of goal with Joan Hartock. This was the occasion to once again appreciate the shooting of Lisandro Lopez. The Argentine forward also showed what he was capablle of in the air. Jean-Alain Boumsong was the only absentee fro mthe session: injured in the first game against Besiktas, the international defender has to have some closer examination to know the extent of his injury.
[IMG50014#C]
Saturday July 25th
At the end of the match against Besiktas Jean-Alain Bousmong, who came off in the 57th minute, complained of a groin strain. Frédéric Piquionne, seems to have strained a thigh muscle.
The players and staff went for a walk along the beach which i just next to their hotel. A walk which allowed the players to clear their minds just a few hours before the start of the competition.
Former OL players are well represented in this Peace Cup 2009. Also playing are Karim Benzema (Real Madrid), Tiago Mendes (Juventus), Sébastien Squillaci and Frédéric Kanoute (FC Sevilla) and finally John Carew (Aston Villa).
In the opening game of Group A Juventus beat FC Sevilla (2-1). The Italian goals were scored by Amauri (26') and Iaquinta (67'). Sevilla pulled one back through Squillaci (81').
In the other encounter, Quito defeated the Saudi club Al Ittihad 3-1.
[IMG50014#C]
Friday July 24th
This morning: 30 minute warm down session on the golf course.
This afternoon: The OL squad trained at 19h00 in the Cartaya stadium. Hugo Lloris (throat infection) was absent. The Argentineans César Delgado and Lisandro Lopez trained away from the main group in the company of Sylvain Rousseau (running, bike and weight training). Jean 2 Makoun worked with Sonny Anderson. The rest of the squad (23 players) stook part in a traditional pre-match trainig session. The seance was brought to an end with a series of free-kicks and the candidates to shoot were legion (Pjanic, Govou, Källström, Grenier, Bastos, Mounier et Ederson ) all trying to get the ball past Joan Hartock. Cris continued his work with some individual taining and Jérémy Toulalan fine tuned his long passing. The high point: a series of "rabona's " from 25 metres out pulled off in style by Sonny Anderson.
[IMG50014#C]
Thursday July 23rd
The OL squad arrived at the hotel and were welcomed by around 50 French supporters.
[IMG50014#C]
The arrival in Spain
After a flight of 2h15, the OL delegation landed at San Pablo airport (Seville) at 18h30. They were welcomed by a scorching 35°C and flowers for Sidney Govou (captain) and Sonny Anderson whose time in Spain has been forgotten by nobody.
Afterwards the entire group were taken by bus to their hotel.
Two training sessions are scheduled for tomorrow at 9h00 and 19h30.
>>> Photos of the arrival
[IMG50014#C]
Réveillère : "We are putting our title back on the line
[IMG50108#R]For
Anthony Réveillère
, the competition has gained in prestige this year with participation of Juventus and Real Madrid. "Our group is very strong an dit will be difficult to qualify." Another complication for the former Valencia player: "I'll have to speak Spanish again...that will not be easy either."
As for
Ederson
, the season starts here he said before take off: "it's an early taste of the Champions League as the quality here is very high. It's a good test for us before the start of the 2009-2010 season".
[IMG50014#C]
The jerseys
Guy Genet and Jérôme Renaud, the kitmen, have put names on the 400 jersyes that the 25 players will use during the Peace Cup. For the competition, Sidney Govou et al will have Betclic as shirt sponsors.
[IMG50014#C]
The squadLe groupe
Claude Puel has named a 25 man squad for the Peace Cup.
Goalkeepers
: Lloris, Vercoutre.
Defenders
: Bodmer, Boumsong, Cissokho, Clerc, Cris, Grosso, Mensah, Réveillère.
Midfielders
: Bastos, Court, Delgado, Ederson, Grenier, Gonalons, Källström, Mounier, Pjanic, Makoun,Toulalan.
Forwards
: Govou, Lisandro, Piquionne, Tafer
[IMG50014#C]
See also:
-
The OLWEB Peace Cup dossier
-
The official website of the Peace Cup
-
The widget of the Peace Cup 2009