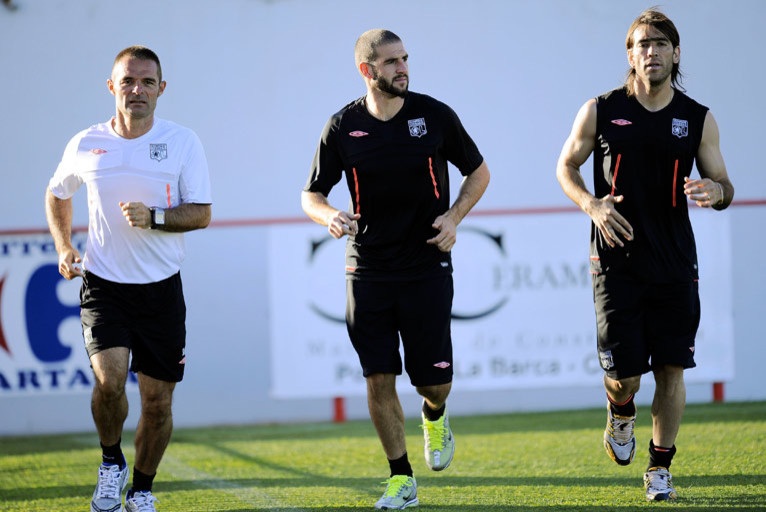 Claude Puel's side will continue their stay in the south-west of Spain. This will be the chance for them to play a friendly match against the FC Sevilla side of Squillaci and Kanouté on Thursday at 21h30, this game will also see the debut of Lisandro Lopez for OL.
The Argentinean forward is doing better. After having trained normally over the last two days, he will play his first match for OL on Thursday: « We'll try and give him some playing time, explained Claude Puel on Tuesday, that's why we tried to organise some more friendly matches. Lisandro should play one half against Sevilla and then a little more against Deportivo on Sunday. The aim is to help him build up automatisms with his new partners so that he will be ready for the start of the L1 campaign. »

The OL coach also spoke about his desire to continue the stay in Spain: « it keeps the squad under pressure. We have great facilities here and we really need these friendly matche sto get us back into the rhythm and become more competitive. »

These two matches against Besiktas and Porto, allowed the OL manager to better judge his new left flank: « Michel Bastos showed his capabilities from set pieces. He was able to be dangerous. His performances were encouraging. As for Cissokho, he was very solid defensively and didn't hesitate to help out going forward. »

Claude Puel commented the latest rumours: « I read that Sidney Govou wants to prolong his stay at the club. It's very honourable to play your entire career at the same club, it's fantastic and something I know a little about. I have spoken with Fabio Grosso, he has nothing against competition, but as the World Cup is at the end of the season, he wants to study all options. »

Two training sessions are scheduled for Wednesday.