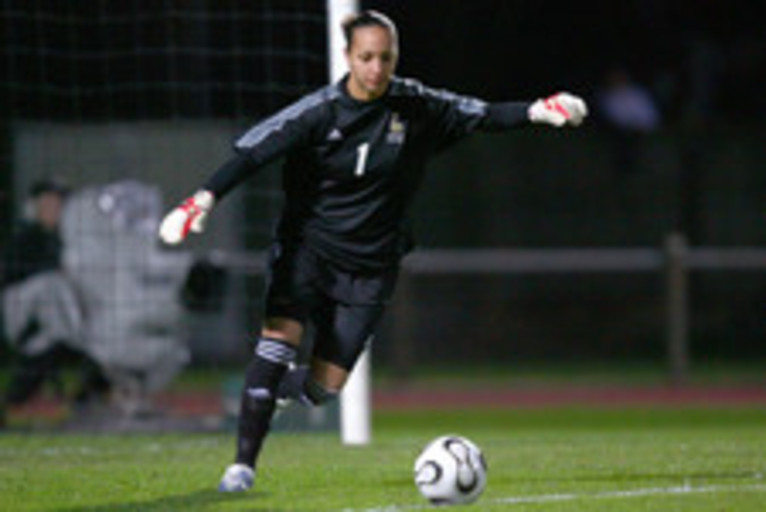 Sarah Bouhaddi, goalkeeper for the National side, and new OL Women's keeper, is on a training camp with the France team at the moment. She cannot wait to joion up with the OL squad and play her first matches at Gerland.
Sarah, I imagine that you are delighted to have joined Olympique Lyonnais ?
Yes very much so. They have been trying to get me here for 3 years already, I finally made my mind up and have signed on for 2 years. I'm delighted.

What is your objective with Olympique Lyonnais, winning titles?
Yes, I haven't won any domestic titles only with the French team. So of course my objective would be the title of champions. There are also three other competitions to win, including the European Cup. Olympique Lyonnais have been trying to win it for three seasons, so a big objective will be Europe.

When you play in the French league and you see the squad at OL, it must make you want to come here? Where you impatient to come here?
Yes, afterwards things depend, you know there are a number of clubs who are getting better in the League, like Montpellier, Juvisy or Paris-Saint-Germain, all these clubs are at a good level. But it's clear that playing alongside Costaricans or Brazilians is something exciting. The club is exciting as well.

This year's objective is Europe, with it's great moments, notably the matches at Gerland ?
Of course, that is something else. In my first year when I signed for Juvisy, they played in Europe but I was with the French under 19 side, so couldn't take part. It's going to be a first for me, I can't wait, also playing at Gerland is something out of this world.

In the meantime, could you tell us a little about the National side?
We're heading off on a training camp in preparation for the European Championship, which will take place this summer between the 10th of July and the 10th of September. We have three huge games, but I'm optimistic. I hope we, at least, make it through the group stage, we'll take things as the come. But, with the side that we have, I feel that we can achieve something special.

There will be a lot of OL players, it will be like a big family.
Yes, there are about 7 or 8 OL players, which is very impressive.