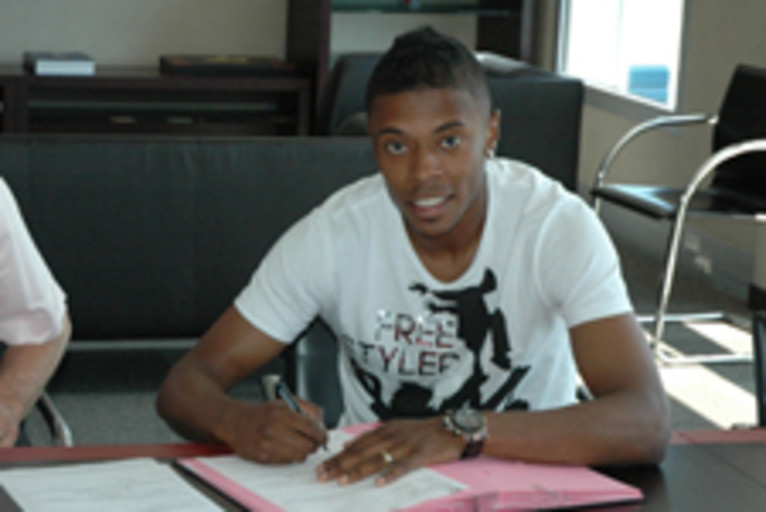 Michel Bastos signed a four year contract, for a transfer fee of 18 million euros, with OL this afternoon in the presence of Marino Faccioli. The Brazilian gave an exclusive interview to OLTV.
Michel, what are your first impressions of Lyon?
Great, the weather is good. The welcome was fantastic as I expected. I'm happy to be here.

Was this transfer to Lyon in the pipes throughout the season?
As far as I'm aware the first contact was made when I came back from vacation. The club didn't want to let me go but at the end just couldn't refuse the offer from Lyon. Discussions with Lyon went well, it dragged on a little but now it's done and we are all happy.

In what frame of mind are you at the moment?
The best possible, I've signed for the best club in France, a club that has been champion seven times in a row. Before coming to France, I knew about Lyon, Marseille and Paris, we also spoke a little about Bordeaux. But really in the French league it was Lyon. Today my dreams have come true. I'm happy and I hope to do the best I can.

[IMG50105#R]Lyon is also a club with a strong Brazilian tradition.
There's Juninho who will remain in the minds of the supporters. There is Cris, Ederson as well, Caçapa played here also. Sonny Anderson works at the club now. I hope to follow in the footsteps of these players who marked the club.

With your arrival and that of Lisandro Lopez, we have the impression taht a new er ais starting at OL, what do you think?
Up until last season we were used to seeing OL win the title. The directors realised that some changes had to be made. I think that Lisandro is of the same opinion as myself and he has come to Lyon to win the title back. It's clear that I didn't have as much pressure at Lille. But, today, someone who wants to play at the top level has to accept that. You have to give all you have in order to be rewarded.

We have the impression that everything is in place to help you integration: there are a lot of Brazilians, South Americans and a staff that you know very well.
It's great because sometimes you arrive at a club and the integration is anything but easy. I already know the coach, the fitness coach, the assistant and the doctor. There are also the Brazilians who I've been able to talk to. There is also « Bod »(Mathieu Bodmer) and Jean II (Makoun) who I played with at Lille. I think all of that came into play when I made my decision.

[IMG50106#L]Lyon also seems to be a step towards your ambition of playing for the National team.
When I went back to Brazil I was told that I needed to go to a bigger club, to continue working hard and that then I would have a chance of being selected. I have a lot of respect for Lille but I know that my performances have more chance of being taken notice of by Dunga.

Have you set yourself an objective for the season?
Ever since I arrived in France I have managed to progress each season. If I want to do better then I need to score more than 14 goals and play in more than 9 decisive passes. My objective is to once again be the best passer in the L1. Everybody know about me because of the number of goals I scored. It would be great if I could do better than last season. I hope I put in a good season and help my team become champions again.

Do you have any message to send the OL supporters?
I'm very happy to be here and to wear this jersey. You can count on me and I know you are expecting a lot. I'm going to give all I have for the team.

[IMG50104#R]Michel Bastos in statistics:
Michel was born on the 2nd of August 1983 in Pelotas (Brazil).
Former clubs:
Excelsior Rotterdam (2002-2003)
Atlético Paranense (2003-2004)
Grêmio Porto Alegre (2004-2005)
Figueirense FC (2005)
LOSC (2006-2009)
Olympique Lyonnais 2009-...
Last season with Lille he scored 14 goals in 37 matches.