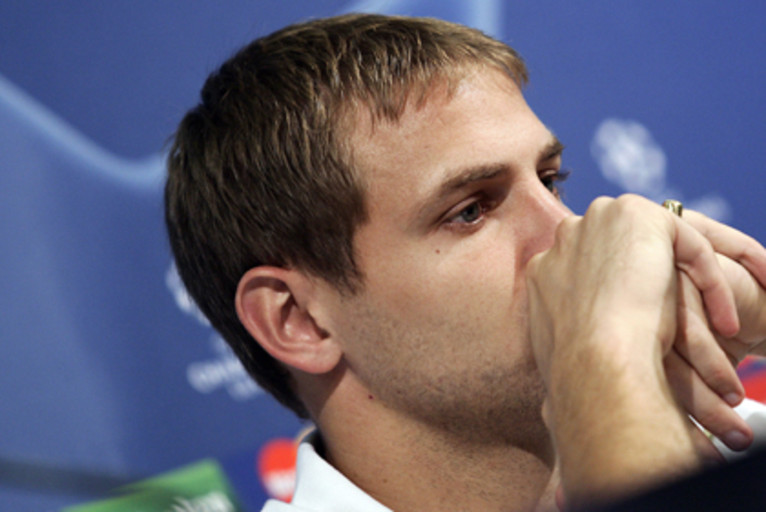 Mathieu Bodmer isn't a great fan of pre-season training, but he accepts it's a crucial part of a successful campaign. In this interview, he also talks about his decision to concentrate on becoming a central defender and a potential place in next year's World Cup squad...
How is the training camp in Tignes going?
Good. We've worked well up until now. We've worked very hard, all varied because we've skied, cycled, ran and even played a bit of football. We're here in Tignes, we've been here before and we know what we have to do for ten days – it's a big advantage. The atmosphere is really good, everyone's working hard and getting along well. When the training camp is as difficult as this one, it's vitally important that the squad gets along well.

[IMG50099#R]You love cycling, skiing and running don't you?
Yes! That's right (laughter). No, not at all, in fact. Skiing is a disaster; cycling's okay when it's flat; and I don't like running at all. I like team sports, with a ball, but I also know this is important for a good season – you have to prepare properly. I'm doing my best and I know that my hard work here will bear fruit. When I'm not 100 per cent physically, I struggle to play well. I need to be in top form to play my best football.

[IMG50097#L] How is the squad after the departures of Karim Benzema and Juninho?
It's okay. We more or less knew that Juninho was leaving. He'd done what he had to do and achieved some great things with the club. He wanted to experience something else. Concerning Karim, it all happened very quickly, but we knew a player with that much talent would be leaving Lyon sooner or later. I was surprised because I thought he's stay at least another year. But when Real Madrid – a club I love - comes knocking, it's not easy to refuse, especially considering the team they're putting together. Now we have to show what we're made of. The club will recruit some new players but there are quality players here as well. Juni and Karim did a lot for the club, they were involved in just about every goal we scored and the new players will have to fill their boots and those that are already here need to step up even further.

Is this going to be a transition season? No, you can't call this a transition season: the coach (Claude Puel) has been here for a year, most of the players were here last year, we know each other better, everyone feels at home at the club, the Stade Gerland, in the city of Lyon. This year we have to win something. We also need to qualify for the group stages of the Champions League and win back the league title that we lost.

Do you see a difference in the Claude Puel that coached you at Lille and the man today?
Especially already this season. He seems a lot more relaxed, a lot less closed in. He's talking to everyone, he's more flexible in his handling of training. He's evolved. Last year was also new for him – he saw how the club operated, that the players were individuals and knew how to manage themselves off the park."

[IMG50098#L] What are OL's goals for this season?
To win the Ligue 1. We need to win back our title, even though OM have recruited well and Bordeaux are there as well as two or three other teams. We have a reputation to defend. I only won the title once and I'd like to win it again.

[IMG50034#R]Last season you played in the centre of defence. What's your favourite position?
I talked with the coach over the break and despite all the time I've known him, we've rarely spoken about my position on the pitch. He talked about a career choice, while leaving that choice up to me. I thought about it for two or three weeks and gave him my answer. I'm at a turning point in my career – I'm turning 27 and I'd like to settle on one position. I think my future lies in the centre of defence.

Do you think your versatility has hampered your career?
No, I think it's been a big help. Thanks to that I've played a lot of matches. I think it's a big plus. But now I'm starting to get older and I want to go even higher...

What does 'even higher' mean? First of all, establish myself as first-choice with Olympique Lyonnais and force my way into the France squad. I've always said that that was my dream. I need to settle on one position and play a great season. There's a World Cup at the end of the campaign. To have ambition means wanting to take part. I have to force my way into the coach's reckoning, even though I know I'm starting from a long way back. If I win my place here at Lyon, that will already count for a lot. Then if I'm consistent all season, then I think it's a possibility. I'm changing position, philosophy. I'll do everything to make it happen. If it doesn't happen this season, then I'll try again the next season and I'll never give up.