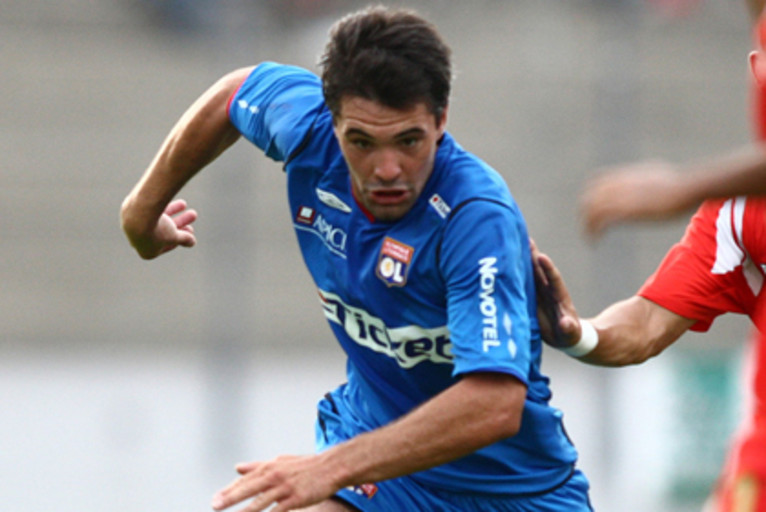 The pre-season training camp in Tignes, the Champions League, Ligue 1, the France squad, even his desire to score a goal in a Lyon shirt - Jérémy Toulalan broached all the burning issues on the eve of the 2009-10 campaign...
Given how much energy you burn during a game of football, this type of pre-season camp is probably right up your alley, isn't it?
I don't necessarily love it all that much, but I tell myself it's crucial for the coming campaign. Last season I was at the Euro and didn't do the camp at Tignes. I joined up with the squad afterwards and I later realised that I was penalised as a result. Need to feel good physically to feel good with the ball.

Did you feel the need to work out during the break?
Yes. I had a week off and then I ran every day. If I hadn't done that then I'd be a complete wreck when I came back. Apart from last season when I really needed a break over Christmas, I always run during the holidays.

When do you think you'll be 100 per cent?
I hope to physically 100 per cent as soon as the competition starts. That's the aim, at any rate. This season is different because we need to be ready early because of the qualifying round of the Champions League. On the other hand, we might struggle a little towards the end of the season so we have to take that into consideration.

[IMG43581#R] How do you approach a month of August in which you could be playing up to seven games?
We'll start with the Peace Cup, which is a good thing, better than just playing friendly matches – it's good to start with a real competition. There will be a lot of matches but as a player, it's better to be playing than training.

What will be a successful season for OL?
Recapture the Ligue 1 crown which we let slip last season even though it was ours for the taking. The championship is always the number one goal. That's the one that will qualify us for the Champions League.

Do you think the fact that Lyon are no longer champions will mean something for your matches, or your opponents?
Perhaps there'll be a little less pressure, even though there's always pressure at Lyon and you have to win titles. Bordeaux will find the going a little tougher trying to defend their title.

[IMG43584#L]In one month, OL will be taking part in the preliminary round of the Champions League – are you worried about that?
Of course, because it's already a potential turning point of the season. We know that it is incredibly important for the club, especially financially. We know we need to qualify. It's hard to imagine a season without the Champions League music, without the special shirt, especially after so many seasons. We know we might be drawn against a big team but we also know it will be tough against a so-called 'little' team. To qualify, we have to prepare well and welcome the new players as quickly as possible to be as competitive as possible as quickly as possible.

If OL qualify, will a group including Real Madrid be the draw to avoid?
They've recruited a lot of players, but that isn't always enough. They also need to be able to play together, have an understanding, bond. That's not a sure thing. At the moment the best team is Barcelona. If we get through, the first team to avoid will be Barcelona.

Were you surprised by the departure of Karim Benzema?
Yes and no. I didn't think he'd go to Madrid. They're a huge club and that's great for him. Obviously it's going to be harder for Lyon, but it's a good thing because he really was a cut above. It will be a real challenge for him. That wasn't necessarily the case here

[IMG43385#R]Juninho and Benzema have left. Does that worry you?
They are both great players. When you see the goals they scored last season, it's pretty impressive. It may be a little worrying, but as a result, we'll have to rely a little more on the team. Everyone will have to try and score goals. It might even be a bonus if we evolve as a better team than before.

With Juninho leaving, do you feel obliged to take on a little more responsibility off the park?
Last season I tried to talk a little bit more. This year I'll have to do a little more. I can talk more, but it's not my No.1 quality. My first goal is to play well. People say I have to be more of a leader, but it may have a negative effect on my play. I think other players might be better suited to that than me.

You are now with OL, as well as with the France squad, a first-choice player – does that change the way you prepare for the season?
Not really because at the start of each season I try and challenge myself. I don't think I'm going to play every game with OL or Les Bleus. You have to prove that you deserve to play.

[IMG43484#L]But you are first-choice with the France team...
I don't consider myself first-choice, especially with the return of Patrick Vieira. There are a lot of good players. It's true that I've played a fair few games over the last two years and that I've played more or less well. The coach has confidence in me. I just try and give my maximum that he picks me next time.

Do you have the feeling that this is that start of the most important season of your career?
Yes. I think this is the most important season of my career to date. It's a big season, notably with the World Cup coming up – even though we still have to qualify.

Have you set personal goals?
No. I just try to play as well as possible. People say I should try and score more goals. Each year it's the big question. It would be good to get a goal because it's starting to drag a little bit. Much longer and it might start to play on my mind. But the most important thing is to play well. If the team wins and I don't score, that's no problem for me.

[IMG50085#R]Do you think it's funny or is it starting to get on your nerves?
A bit of both. It's funny, but it's also true that sooner or later I'm going to have to score a goal. With Juninho and Benzema leaving this season, I'm going to have to get forward a little bit more and I'll try and see if I can't get a little goal now and again.

Perhaps also try your luck more often from distance?
Yes, perhaps – people say I've got a good shot. Perhaps I should also try and be a little more lucid when I get the chance. Because I run a lot, sometimes I lack a little composure in the final gesture. I have to improve that.