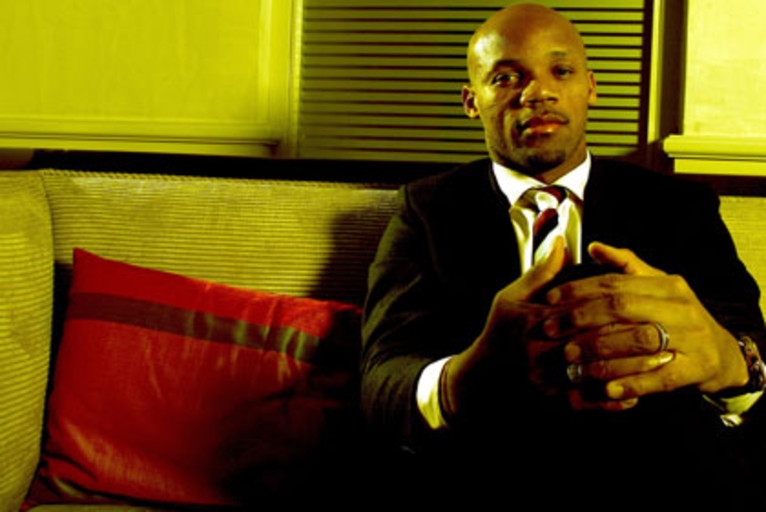 Jean-Alain Bousmong hadn't touched a football for over a month. Yesterday, before dinner, the OL defender spoke about the training camp in Tignes, France, his ambitions for the forthcoming season and also Karim Benzema.
Are you happy to be back in training?
It's good to be back. I had a short, but well filled out, holiday, between Cameroon, Paris, Punta-Cana, New-York. It was fun, I was completely cut off from football. I didn't know anything about the transfer market, apart from Kaka and Ronaldo. I like to break away, it is something I impose on myself but now it comes naturally: there is more to life than football. I impose it on myself to have a clean break and to be happy to get back with the squad.

You've never taken part in the pre-season training camp with OL at Tignes …
Not with OL, but twice with France in 2006 and 2008. Robert (Duverne, former OL and current National team fitness coach) is no longer here but there will be similarities. The difference is that the camp with the national team generally took place at the end of the season while now we are at the start. There is generally more conviviality with the club.

[IMG43558#R]What do you think are the objectives during a trainig camp like this?
To get away from the day to day environment. Working at high altitude is also very beneficial. All the fitness work is very important as well. When you go on holiday you lose your rhythm, to get it back you have to put in a lot of hard work. Training camps like this also bring the squad closer together and helps everyone pull in the same direction towards the same objectives.

Do you enjoy all this suffering?
I love my job but this is really a period that I detest. We have aches and pains from morning to night and suffer a great deal.

Is the forthcoming season important with the World Cup in South Africa coming up?
It's a very important season. First of all because I want it to be successful with OL, but I also want France to qualify for the World Cup and to take part in it. It will take place in South Africa so I will be giving all I have to be on the plane (Jean-Alain Bousmong was born in Cameroon). We will qualify, I am sure of that. It will be difficult and we haven't started well, but we will qualify. Qualification will be decided in the matches against our direct opponents, notably the match against Serbia in Belgrade. We have to go there and win, it's possible. We di dit in 2006, we had to win away to Irelanc and we did (1 – 0).

[IMG50023#L]Two years ago you arrived in Lyon to give your career another kickstart and get back in the National team. At the time, did you think it would be as successful as it has been?
Yes, I knew in coming to Lyon that I would be happy. I've always wanted to play in Lyon. I was motivated, I wanted to do well as I love the club and the city. I just hope that it continues.

What are Ol's objectives for this season?
We want to win the title back and have a good run in the Champions League, which means making the quarter finals at least. We have to be happy to give our best. You have to be happy in what you do. That's how I feel, but in general I think that is just human nature.

We know how much of a competitor you are. Could you accept another season going by without being French Champions?
I'm not even imagining it. It's too much of a wonderful thing, we weren't champions last season and all the supporters have understood that a title is not given, it is something exceptional. We're going to try and I believe we have a good chance of winning our eighth title. The fact that we finished with the best defence in the L1 last season didn't take away from my disappointment. I don't go out onto the pitch wanting to have the best defence, I go out to win.

[IMG50076#R]In comparison to last season, where do you see the key to success lying this season?
We need to be more united. Last year it was OL against the rest. Now there are other teams fighting fo the title, Bordeaux, Marseille, Paris or Rennes and they cannot hide that fact. All these teams will believe that they can win when playing against us. We will be up against more motivation on their behalf. We will have to put more into our performances and being united will help us to do so. We havce to realise this as it will be a key factor.

Can you imagine OL not qualifying for the Champions League?
No, I cannot imagine that, even if it is a possibility. We have to believe, work hard and go out as a team. We now that we can draw a big team in the qualifiying round, we must remain confident, sure and proud of our work. We mustn't over or under estimate our opponents.

[IMG50077#R]How did you feel when you heard about the transfer of Karim Benzema?
I was sad, like I was sad to not see Juninho at training. I can understand Karim's position, Real are one of the biggest clubs in the world. That's how football is. You have to be realisitc: there is a difference of level between OL and Real Madrid. I just hope that one day OL will be able to attract players from Real. Madrid are building a great team, but the transfer fees are too big. They aren't stupid, they know that they will be able to make money on the signings; the market economy will see to that. But, today a player who is worth 10 million is bought for 15 or 20 million, there is a bit of speculation in all of that.

Unlike Real, OL still have not recruited anyone. Does that worry you?
I'm not worried as I'm sure the directors are working hard to build a good side. OL want to remain competitive and to do so you have to have a good team, the directors know this. I have faith in their strategy.