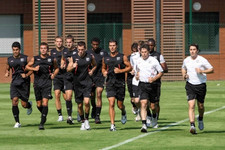 10 players* got back into training this afternoon under the orders of Claude Puel and with Vincent Espié, the pro squad's new fitness coach.
After 20 minutes jogging, the group got back in touch with the ball, the same one that will be used in all L1 matches.
After some juggling and a warm-up session based on short passes, the players split into two groups to dispute two 10 minute halfs on a shortened pitch.

A number of players who have an extra few days holiday will join up with the group during July: the French players, who took part in the National side's two friendly matchesat the start of June, as well as the youngsters from the « Pro 2 » group who finished their season with the final stages of the CFA and under 18's divisions, and Pjanic will be back in training on Thursday for the start of the training camp at Tignes; Källström will return during the camp (on the 6th of July) ; Makoun, Keita, Mensah and Grosso will come back on the 13th of July.

The OL squad's next training session will take place on Tuesfay at 17h15

*The ten players present this afternoon at Tola Vologe: Hartock, Vercoutre, Clerc, Réveillère, Cris, Bodmer, Ederson, Delgado, Mounier and Piquionne.