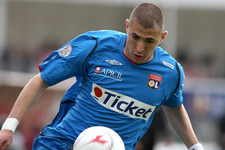 There is very little space for OL in the written press at the moment with OM taking all the headlines. L'Equipe mentioned a former OL player in Jérémy Bréchet who has signed a three year contract with Sochaux.
There was a mention in the automobile press of the Superleague which will take place on Sunday at Magny Cours with a car sporting the coloiurs of Olympique Lyonnais. There will be two French pilots racing: Nelson Panciatici for OL and Tristan Gommendy racing for Porto.

In France Football, other than OM, one question creapt up: « Benzema, will he stay or will he go? » four clubs appear to be interested in OL's forward state our colleagues. Manchester United, Ferguson is dreaming of him, there is also Real Madrid where his stock is rising, Barcelone mseem less interested and finally Inter see him as a replacement for Ibrahimovic. Laurent Campistron finished his article with the following phrase: « the idea would appear to be agreeing terms and conditions now, with club and player, for a transfer that would go ahead in June 2010. »

Finally in Le Progrès, Benzema was also given some column inches with an article about his future, our colleagues stating that as of yesterday OL had received no offer from Manchester. In the papers short articles was mentioned that: Porto and OL had appeared to have come closer to an agreement concerning Porto's Argentinean striker: Lisandro Lopez. And also that OL would see four of their games televised by Canal + with the first match being a PSG-OL on Sunday the 20th of September.