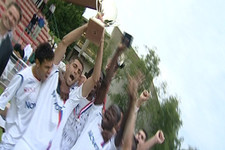 OL picked up this seasons crown of reserve champions. A deserved reward for all the work put in to the youth academy.
Robert Valette was unable to hide his delight at the end of the large victory in the reserves final on the pitch at Sochaux: «It's a great satisfaction to finish off our season with this title and also our level of play. It's a big reward for all those players who were making their final appearance in an OL jersey ».

Like in 2006, OL went to the end of an adventure where Pierrick Valdivia and his teammates fought behind Montpellier in the CFA group B before qualifying and then knocking out Rennes on penalties in the semi-final (1-1, 4-3 on penalties).

During this 2008/2009 season, 44 players from the squad took part in these CFA matches, the most regular being Jérémy Pied who played in 32 matches. The attacking midfielder leading Pierrick Valdivia (29 matches), Joan Hartock (25 matches) and a small group composed of Romain Dedola, Maxime Gonalons, Thimothé Kolodziejczak and Ousmane N'Diaye (24 matches).

In the goal scoring charts, Jérémy Pied and Pierrick Valdivia share first place with seven goals. The duo finished ahead of Yannis Tafer (6 goals) and Yohan Court (5 goals including two in the final).

The 44 players used (number of matches played): Abenzoar (18), Ancian (2), Archimbaud (6), Barlet (20), Belfodil (1), Bodmer (2), Carra (1), Charles (2), Chavalerin (1), Court (14), Dedola (24), Delgado (2), Fabio Santos (1), Faure (19), Fontaine (21), Fourtier (5), Gassama (15), Gonalons (24), Gorgelin (1), Grenier (17), Hartock (25), Heynninck (6), Keita (2), Kolodziejczak (24), Lacazette (21), Lopes (8), Mehamha (16), Miguet (6), Mounier (3), N'Diaye (24), Ossette (1), Pied (32), Piquionne (4), Reale (7), Réveillère (3), Roux (2), Salamand (1), Santos (1), Seguin (21), Si-Mohamed (2), Tafer (18), Tie-Bi (22), Valdivia (29) and Vercoutre (1).

The goal scorers: Pied and Valdivia (7), Tafer (6), Court (5), Dedola, Lacazette and Piquionne (4), Gonalons, Mounier and Pied (3), Barlet and Mehamha (2), Abenzoar, Faure, Fontaine, Grenier, Keita, Kolodziejczak, Miguet and N'Diaye (1).