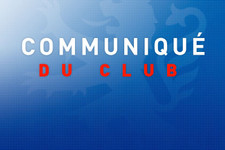 Taking into consideration the different declarations that have been made concerning OL LAND over the course of the last few days, Olympique Lyonnais would like to point out that they have always been and will remain open to all suggestions from the different partners (elected officials, associations, etc.) concerned by the project, discussion and exchange of ideas the order of the day, listening to all improvements which appear necessary to all involved, in particular in the field of Sustainable Development, in order to make this project a European reference.

Focusing on the site of « Puisoz », Olympique Lyonnais would like to remind everyone that site was painstakingly studied as soon as it became clear that an expansion of Gerland was impossible. After many months of work with the different partners, it became clear that the site did not correspond to the different elements of the project, in particular regards of the surface area and the conditions of accessibility (notably with the interchanges of the ring road).

After more than 18 months analysis of a number of other sites, Olympique Lyonnais accepted the proposition of the President of Greater Lyon, to fulfill the OL LAND project at the Montout site in Décines, which assembled all of the required criteria (surface area, accessibility, Sustainable Development, purpose of the site…).

The good sense of the choice was confirmed on the 21st of January 2008 by the vote which called for the halting of a project to revise the planning regulations by a large cross party majority (104 votes for, 3 against, 27 abstentions).

This decision enabled the continuing discussions and studies of the site at Montout, which received an enthusiastic thumbs up from the national football associations (FA and League) during the presentation of the French candidacy for the EURO 2016. They qualified the project as « exemplary », and «a pilot for what is going to be at the heart of UEFA's decision, sustainable development and the protection of the planet ».