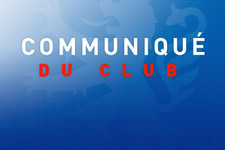 Before the transfer market is officially open, a profusion of pseudo information has leaked out linking OL to just about every player on the market.
Even if it is true that the best players could be of interest to Olympique Lyonnais, only those, less numerous, whose clubs have been contacted directly by O.L. could possibly arrive in Lyon.

The majority of the information available at the moment is nothing more than gesticulation in the media from those people who would like to see the players moving and is relayed by the Press, without necessarily having anything to do with Claude PUEL'S recruitment policy and the structure of recruitment within the club.