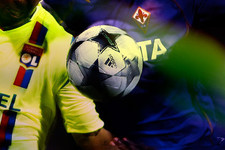 There are matches that can remain in the mind, matches that count more than others, turning points in a season. And if we had to chose five...
Fiorentina – OL: 1 – 2 (November 25 2008)
In terms of collective control, it is probably the most complete match of the season. In Florence, OL, who only needed a draw to qualify for the last 16 of the competition, scored twice in the first half hour, through Makoun and Benzema, in the process transforming the reception of Bayern Munich into a final for first place in Group F. Without Cris or Juninho, suspended, Claude Puel's men lost 3 – 2 at Gerland and ended up facing Barcelona in the last 16 of the Champions League.
[IMG50014#C]
[IMG50058#R]
Barcelona – OL: 5 – 2 (March 11 2009)
Few teams can claim to have given Barcelona, future winners of the competition, a tough time this season as OL did in the first half of the first leg match (1 – 1). With this in mind, Lyon went to the Nou Camp with the hope of pulling of an exploit. Their hopes would last 27 minutes; at half time, the issue of the match had been decided: 4 – 1. More than an elimination, « something broke » according to Claude Puel, and certain players found motivation hard to come by at the end of the season, an 8th title slipping from their hands.
[IMG50014#C]
Bordeaux – OL: 1 – 0 (April 19 2009)
At the kick-off of the third encounter of the season between Bordeaux and Lyon, OL, who are only one point behind the L1 leaders, OM, still have their destiny in their own hands. This was no longer the case at the final whistle. Deprived of two penalties, they lost out to an Alou Diarra goal: the tile slipped further away.
[IMG50014#C]
[IMG50060#L]
Marseille – OL: 1 – 3 (May 17 2009)
Three points, all that Marseille lacked in order to become champions of France. Three points is what OL took from them just three matches from the end of the season, at the same time making a huge step towards a qualification for the Champions League. Benzema scored twice, Juninho firing in his 99th goal in an OL jersey.
[IMG50014#C]
OL – Caen: 3 – 1 (May 23 2009)
Having picked up a yellow card for having taken off his shirt whilst celebrating his goal at Marseille, Juninho played his final match for OL against Caen and managed to score, via penalty, his 100th goal for OL. Gerland offered him a farewell worthy of the mark he has left on the history of the club: immense!