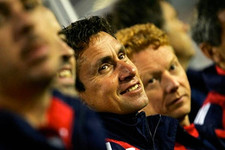 The fitness coach will no longer be at OL next season.
Robert DUVERNE wanted to be able to focus himself completely on the preparation of the French national team and avoid the complexity of his two jobs with club and country.

Olympique Lyonnais wish, at this moment, to make it known that they have accepted his request to be liberated from the final year of his contract, in order to focus 100% on the French qualification for the next World Cup.

The club is delighted to be able to reward his loyalty and professionalism, in enabling him to move his career in the direction that he wants.

They would also like to thank him for his implication and efficiency with the professional squad for whom he has been the fitness coach since 1995, successively under the orders of Guy STEPHAN, Bernard LACOMBE, Jacques SANTINI, Paul LE GUEN, Gérard HOULLIER, Alain PERRIN and Claude PUEL. He, therefore, played an active part in the conquest of the 15 titles won by OL over the last few seasons.

Olympique Lyonnais wishes him as much success in the rest of his career, starting with a qualification of the France side for the 2010 World Cup.