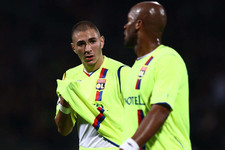 Numerically disadvantaged for more than half off the match, after the sending-off of John Mensah (38'), Claude Puel's men showed great solidarity to take home the point from a draw with a heartfelt performance.
With nothing to play for in this final match of the season, if only to finish off on a high note, Claude Puel lined up an OL side with a never before used central defensive partnership of Mathieu Bodmer and John Mensah. Up front, Karim Benzema was aided and abetted by the captain Sid Govou and Antho Mounier. OL would play this match in their change strip of yellow.

The encounter kicked off in a highly colourful and well decked out Stadium. John Mensah picked up a booking for a foul on Braaten on the edge of the penalty area (6'). OL threw themselves into and controlled the match. Makoun managed to get his head to a Källström free-kick, forcing Carrasso into making a save (18') but the referee had already whistled for an offside against Karim Benzema who was in close proximity of the Cameroon international. Sid Govou played Karim Benzema in deep but the striker was caught just at the last minute (21'). All alone out on the right, Moussa Sissoko tried to fire in a low level cross, but Hugo Lloris stretched himself out magnificently and was able to hold onto the ball (25'). John Mensah was shown his second yellow card of the match after a foul on Gignac (38'). The Ghanean rock was made to leave the pitch, with OL finishing the match with 10 men. Jérémy Toulalan was forced to drop back into the defence. Braaten tried his luck from around 20 metres out, but his effort was no trouble for Hugo Lloris (44'). The first half was brought to a close with the score level. OL would have to show great solidarity in the second half, on order to make up for their numerical inferiority.

Cetto tried to get his header on target from a free-kick flung in from the wing, but his effort went just wide (48'). From a free-kick, Fofana climbed higher than everyone else and forced Hugo Lloris into making a fantastic save. The OL keeper throwing himself full length in order to push the ball onto his post (60'). Karim Benzema tried an effort from 20 metres out but Carrasso dove and saved without any trouble (62'). Anthony Mounier was brought off for Ederson (67'). Sissoko played a one-two with Gignac before crashing into Hugo Lloris (67')! OL were presented with a good opportunity from a free-kick, but Källström slipped just before firing in his effort (69'). Jérémy Toulalan picked up on a poor clearance from the Toulouse defence, but his effort flew wide of the target (70'). Pierre-André Gignac tried his luck with a left footed effort, but was unable to get his shot on target (76'). Just afterwards it was the turn of Congre to shoot, but Loris was able to make an easy save (79'). Some great play between Govou and Benzema put the OL number 10 into a good shooting position, but he was blocked just as he fired off his effort (82'). Govou and Pjanic came off for Keita and Boumsong respectively (82'). The 2008/2009 season finished off with this draw that OL achieved with a hearty performance.