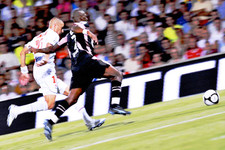 If Toulouse are looking to ensure a place in next season's Europa League, OL would just like to finish off the season on a high note...
A week of high emotion , with the official announcement of Juninho's departure from the club, and relaxation after having reached the objective of the Champions League preliminary round. « We've saved our season in ensuring 3rd place. We wil be playing without any pressure against Toulouse. We have to finish the season on a high note . It is also important in view of the fight for European spots in which Toulouse are embroiled. ». Jérémy Toulalan summed up nicely what is at stake for OL in their trip to Toulouse. A statement corroborated by Claude Puel. « We have to maintain the integrity of the competition and be up to what is at stake for Toulouse … »

Toulouse, obviously, have a lot to play for in this final match of the season . 4th in the table with only two points more than the team's in 6th and 7th place, they need at least one point, thanks to their favourable goal difference. A win would be perfect … a defeat, however, could leave Carrasso et al with only French competition to look forward to next season.

After their very good season, with their impressive striker, their youthful squad full of desire with above average physical strength, a watertight defence, this Toulouse side inspires respect. A sold out Stadium will motivate even more the squad inherited by Alain Casanova ; a coach who has been extremely successful in his first full season on the bench, especially if Toulouse manage to make Europe.

Will OL succeed, where Rennes, Lille, Bordeaux, PSG and Marseille all failed? Will they be able to win in this final away game of the season at the Stadium? It would be good, for the honour. And for the integrity of the competition they must put in a performance, but we can surely have faith in Cris and his team-mates to do so.

Delgado and Juninho are out, could the starting line-up give us an idea of what the side will look like next season? « You'll see … » replied Claude Puel. Will OL play with two central midfielders (Toulalan-Makoun)? Will Pjanic or Ederson be positioned behind Benzema? Will Källström finish off the season at left back? Lots of questions have been thrown about . Another would be to demand if Karim Benzema will be able to add one, even two goals to his tally for the season. Finally, the second best defence in the L1 could be tempted to take first place from Toulouse, if they remained water tight and OL's attacks pay off. One wish ? That these 90 minutes, before moving onto something different, be played beautifully and without restraint.