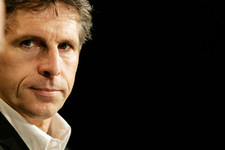 The final pre-match press conference of the season for the OL coach...he spoke about Juninho's departure...the Barcelona victory...and even managed to speak about the match against Toulouse...
Claude, what do you have to say about Juninho's decision?
« We must respect his decision, a well thought out decision. We're losing a great player, a decisive player and we know that he will come back to OL one way or another ».

How have you prepared for this match against Toulouse?
« Toulouse, it's a little like home. We've been taking it easy this week, even if we did put in a good session on Wednesday. I hope that the team will show themselves present on Saturday night, that they will put in a good performance in front of a capacity crowd. Toulouse have had a great season. They are very solid and have the top goalscorer in the L1. Gignac, I know all about him. I had signed him for Lille (he changed his mind). He isn't worried about putting in efforts. I'm not surprised to see him play at this level. He deserves the title of top scorer. Toulouse have a lot at stake against us. OL have to show they are up to the level of that which is at stake for Toulouse. We will put in a performance to try and finish off the season on a high note. There is no pressure on us to get a result, just to put in a good performance ».

What does Barcelona's victory in the Champions League inspire in you?
« Barcelona were logically rewarded for their great season. They have won everything in style. Manchester just couldn't do anything; they never had the ball. It all puts our first leg match against them into perspective, it shows how close we came to something special ».

Have you already started preparing for next season ?
« Yes, we have been for a while. We're at the stage where we are making contacts and gathering information. We'll see how quickly things advance. Between what you want and what you can get, there is a big difference. The different rumours? I'm not going to comment on them. Jöel Bats? He has a contract with OL. He is happy here. Will the preliminary round of the Champions League change anything? I don't think so. If we can get things moving quickly all the better ».