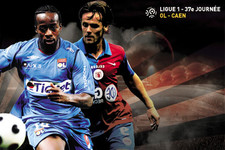 For this final homegame of the season emotion must not get the better of the stakes against Caen...OL must ensure their 3rd place in the table against a side fighting against relegation...
More than ever, it would appear that this will be the last time that Juninho pulls on the OL jersey. How can anyone not be carried away by this terrible but joyous occasion? We can only expect a homage worthy of all the work put in for the club by the greatest player in OL's history. In order for the party to be a complete success, a victory would need to be accompanied by the famous 100th goal for the Brazilian maestro. Emotions are guaranteed, especially as a number of other players could be taking part in their final appearances at Gerland. Could this be the case, for example, of Govou? Or any others? We shall have to wait and see …

Caen will have an all together different point of view . Deep in the relegation battle, the Norman position does not look good. After playing OL, they will face Bordeaux at home. The points they need are far from being a foregone conclusion! Winners against Sochaux, 2-0, thanks to two goals from Savidan, Caen have been playing slightly better over their last 8 matches. Will they come to Gerland to play or to sit back and wait for a counter attacking opportunity ? With the pace and opportunism of Savidan, we would put money on the second solution. A point away to OL would not be a bad result … in the optic of beating Bordeaux at home.

Lyon have to definitively guarantee 3rd place in the L1, while still dreaming of better. Their victory against Marseille put them in ideal condition for the final two matches of the season, with their 4 point lead over PSG. At the Stade Vélodrome, the manner of the victory was pleasing, notably the solidarity and the realism. In imagining the return of Juninho, who has never scored against Caen, to the starting line-up, Claude Puel will have to modify his first eleven. In which way? Delgado, out, Ederson could start on the wing. Unless Mounier is chosen. Finally, it would be strange to see any other changes. In that case, Källström and Réveillère should start the match.

In a few hours the curtain will fall on Gerland for the final time this season. It will be the 25th match at home of this this 2008-2009 season. An exercise which will leave some regrets, notably at home with only 11 victories from 24 encounters (10 draws and 3 defeats; 38 goals scored and 23 conceded). So let us hope that this finale will be brilliant … and full of emotion.