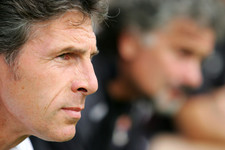 What type of match are you expecting against Caen on Saturday?
It's going to be a difficult match as it doesn't have the same media attention as the Marseille match did. However, it is just as important, if not more so as it will validate our season and the good performance that we put in against Marseille. We will have to be ready in our approach to the game and our concentration. We've seen how our performance can suffer in the less media-friendly games. It's a difficult game to prepare for, as it is always easier to be focused for a match at the Vélodrome. The win against Marseille validated certain things. We've shown our concentration and big implication from everyone involved, in all phases of play, we're becoming competitive again.

Could the personal stories of one or two players change anything in your approach to the match?
What is important is to not lose the thread. There is no proof or evidence, just a last match at home in front of our supporters. That's all. The only approach to have, is to put in a good match, to win and qualify. Obviously we have a little advantage over Paris but anything other than a victory would put us in difficulty going into the last match of the season.

In second place in anyone's mind?
No, it's not something we have in mind. For the moment, all that interests us is third place, and we are far from having won it yet.

What is your position concerning Juninho's future?
We've had discussions with him, we'll take again. He will then make his mind up.

Hugo Lloris is in the running for the award « Goalkeeper of the season ». Do you think that he deserves this award?
With all that he has shown over the season, I don't think he should have any problem. He has been fantastic this season and it would be right that he was rewarded for this.