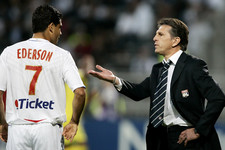 After training, the Brazilian Ederson answered questions from the gathered Press.
The win against Marseille obviously did the team a lot of good, but has it also given you regrets? Sidney Govou said after the match that if the team had played with the same desire throughout the season you would be higher up the table …
Yes, of course. When you come to Lyon it is because you want to win titles, so when you look at the end of the season there are regrets, but that's just how it is. We won't be champions this year, despite this I think our season has been good. Whatever happens, the match against Marseille did us the world of good. It's true that when you win away from home against a good team, you get a confidence boost for the end of the season and for the future.

Were there any signs during the pre-match build up that made you think that OL were ready for this game?
Not really. We tried to prepare the match with a lot of serenity, we knew it wasn't going to be easy to go and win there especially as OM are in good form at the moment. I think we prepared well and importantly we remained serene. We didn't put any pressure on ourselves and that was important.

Third place has not been mathematically assured yet, but despite this, when we listen to all that is being said, we have the impression that you are sure that it is going to happen?
No, we know that we have made a big step in the right direction as it wasn't easy to go and win in Marseille, on top of that PSG got a poor result at home which gave us a bit of a lead, but we know that nothing is for certain yet and we will remain vigilant. We have a game on Saturday that we don't want to mess up as we know that a draw would put us in a delicate position going into the final match of the season. We also have to put in a good match for our supporters as they deserve to see a good show. Caebn are playing for their survival in the L1 so it's not going to be an easy encounter.

Third place is pretty much in the bag now, are you thinking about 2nd place at all or is that asking too much?
It's an objective, it would be better to qualify directly to the Champions League as playing in the preliminary round would not be ideal. You never know who you might come up against, so if we can avoid that it would be a good thing. It's a challenge for the end of the season, we know that it's not going to be easy but we are going to try and put ourselves in the best possible conditions for next season. I think that OM have a good team, but it's also possible that they fall apart as it is difficult to recuperate after losing a big match like that. Whatever, that has nothing to do with us, we're going to try and get the best out of our last two matches and see what happens.

It became official this weekend, Lyon cannot be champions this season, do you think that this failure is down to the Champions League and in particular the match against Barcelona?
I don't think so. The league is played over an entire season, there were matches that we really should have won and that is what has penalised us. These are mistakes that we will have to eradicate before next season. We cannot stay too long without winning anything, so we are already thinking about it in order to prepare in the best possible manner for next season.

Juninho will not be playing in the final match, has he given you any indications on his future?
No. We haven't spoken about that but it's true that we often ask him to stay as he is a very important player for the squad. I hope he will stay at least one maybe two more seasons because he is someone who brings a lot to the group on and off the field. There are a lot of players who want him to stay, so we'll try and find the right arguments in order to convince him. Mostly though we want him to score his 100th goal on Saturday so that we can celebrate it with him.

Did he say beforehand that he would take his shirt off if he scored?
No. I think he was just delighted to have come on and then score in the 90th minute, a tense moment of the match where OM were pushing hard for an equaliser, which did us a lot of good. He was so happy that it just came naturally. I get the feeling that he really wants to stay, to share moments like that with the squad so I hope he will stay.

This season, you have played on the right, the left and in the middle. Are you happiest playing behind Benzema in the middle of the park?
It's a more natural position for me as I started out there, but it doesn't bother me to play out on the wings. I tried, this season, to help out the team as often as possible whether it be on the right or the left, but it's true that I feel good in the centre.

Like a lot of players, you came to Lyon this season to win trophies, something that isn't going to happen, are you personally disappointed?
I came here to bring something extra to the squad and to win titles, so of course I am a little disappointed. But we have to look at the season as a whole, see what we did well and stick at it. I hope that with this squad that we can go ahead and have some great seasons in the future and obviously win a lot of titles.